If you're passionate about Excel, why not learn how to sell Excel templates online?
This blog post is your gateway to turning your skills and spare time into a profitable business venture.
Selling Excel templates has become a popular and lucrative work at home business in recent years.
In this step by step guide,, we'll delve into the strategies, tips, and secrets of successful template-selling entrepreneurs.
You will learn:
The best selling spreadsheet templates
Where and how to sell Excel templates online
The top online platforms for making spreadsheets
Tips for making Excel templates that people want to buy
This post may contain affiliate links. Please read my affiliate disclosure for more information
MORE FUN DIGITAL PRODUCTS TO MAKE AND SELL
How To Start An Invitation Business On Etsy
How To Make Planner Stickers To Sell On Etsy
What are Excel templates?
Excel spreadsheet templates are pre-designed, customizable files.
They are the perfect example of a digital download that you can make and sell over and over again.
While many people start printable shops for things that people can download and print, with Excel templates, the customer will use them right on their computer.
Although the most popular type are Microsoft Excel spreadsheets, in this genre, we are also talking about Google Spreadsheets (made on Google Sheets) or templates made through Apple Numbers.
Spreadsheet templates typically include predefined formulas, formatting, and placeholders for data entry, making it easy for users to input their information and instantly visualize results.
They often come with built-in functions and calculations, enabling users to perform complex calculations with ease.
People love buying pre-made templates for all kinds of scenarios, from running small businesses to managing the schedules of large sales teams.
Do I Need To Be A Spreadsheet Expert For This Side Hustle?
Obviously there is a learning curve when it comes to making digital files such as Excel templates so it will help if you are somewhat of a Excel expert in your chosen niche.
That being said, a lot of people learn how to make customizable templates and making lots of money quickly.
You'll need to spend some time honing your Excel skills before you launch your online store but there is no need to shy away if you have something to learn.
There are plenty of online courses and YouTube videos that can help you get started.
How much can you make from selling spreadsheets?
Like with all businesses, the amount of money you can make selling Excel spreadsheet templates varies depending on several factors.
It depends on the quality and uniqueness of your templates, the demand for your niche, your marketing efforts, and your pricing strategy.
Some template sellers can make a full-time income by finding the right niche and creating in-demand templates people want.
What Are The Best Selling Excel Templates?
Microsoft Excel is a powerful tool that can make all kinds of spreadsheets for almost every conceivable circumstance. But what templates will sell like hot cakes?
If you want to make extra money, then it is important to choose the right spreadsheet products to sell from the get-go.
I've done a little research for you and found that these some of the most popular:
Budget Templates
The fastest way to get started with your Excel template business is by selling budget spreadsheet templates.
After all, who isn't concerned about their personal finances right now?
People love these digital files as they are an easy way to manage your monthly budget or plan for the costs of a baby or downpayment.
This is an area where you can really niche down to provide all kinds of budget trackers for special situations such as wedding budgets. vacation planning budgets and grocery budgets.
The world really is your oyster when it comes to this growing market.
Customer Data Tracker
Small business owners want to be able to do data analysis on their customers and sales data without spending an arm and a leg on financial analysts.
An Excel is a great way to keep track of daily operations and sales easily.
You can easily export an Excel template into many email marketing platforms or perform a Mail Merge, making them key to success of many businesses.
To-Do List Template
A basic to do list template can be customized to be a daily to do list, weekly to do list, or monthly to do list based on your customer's needs.
The best way to sell these kinds of digital products is to offer customization or different options depending on your niche.
Project Management Templates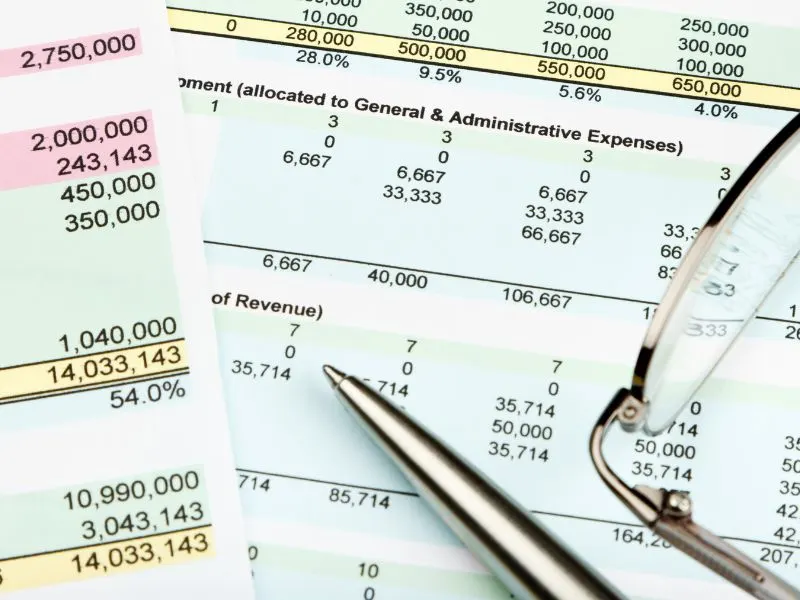 Project managers use spreadsheets all the time to keep track of work and provide comprehensive reports to the higher ups.
A pre-made Excel template is really useful for recording important details of a project and helping them plan projects quickly.
Editorial Calendars
Marketing departments and publishers rely on editorial calendars to plan their content such as ads or blog posts for the upcoming month or year.
An online spreadsheet is the perfect way to track and plan out future advertising campaigns and share them across departments.
Sales Data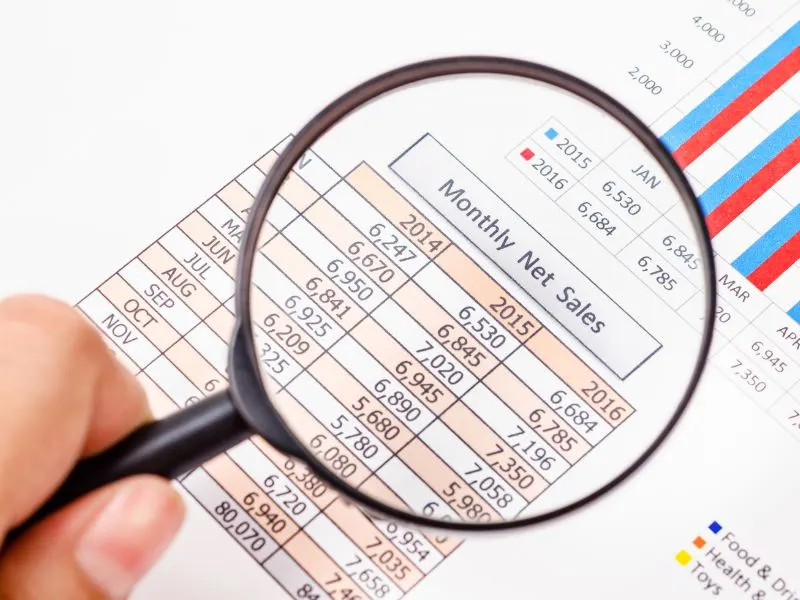 Ask any sales department and the number one thing they need is an easy way to track sales data quickly.
An Excel file can do just that.
​How to sell spreadsheets online (In 5 Simple Steps)
If you are ready to learn how to sell Excel templates online, you need to follow some easy steps:
Choose your niche
Create templates that sell
Download your Excel templates
List them for sale
Promote your business
Finding Your Excel-ent Niche
Before we jump into the nitty-gritty of designing eye-catching templates and perfecting your sales strategy, let's talk about something crucial: finding your niche.
You might be wondering, "Why is choosing a niche so important?
Can't I just create templates for everything Excel-related and reach a wider audience?"
Well, my friend, while it's tempting to cast your net wide, narrowing down your focus can actually work wonders for your template-selling journey.
By specializing in a specific niche, you can tailor the templates to meet the needs of a specific audience segment.
This means you'll be speaking directly to the people who are most likely to be interested in what you have to offer.
Imagine selling a project management template to a project manager who's been struggling to find the perfect tool—they'll be singing your praises!
When customers see that you're focused on a particular area and have a deep understanding of their pain points, they'll trust your templates and recommendations.
Now that we've established the benefits of finding a niche, how do you go about discovering the perfect one for you?
It all starts with identifying the pain points and needs of your potential customers.
Here are a few strategies to get you started:
Research and Market Analysis
Browse online marketplaces, forums, and social media groups where Excel enthusiasts gather.
Look for common challenges, questions, and requests related to Excel templates.
This research will help you uncover the pain points that are ripe for your template-solving expertise.
Gap Analysis
Look for gaps in the market—areas where there's a demand for templates but a limited supply.
Analyze existing templates in different niches and identify areas where you can bring something unique and valuable to the table.
It could be a specific industry, a particular function, or a combination of both. By filling these gaps, you'll carve out your own space and attract customers looking for specialized solutions.
Creating Templates that Sell
Now you have chosen a niche, it's time to make sure your Excel templates are in high demand. This starts with making them on the best platform for your needs:
What is the best online platform for making spreadsheets to sell?
Although this article is called "How To Sell Excel Templates Online", the truth is, there is more than one option when it comes to making high quality spreadsheets.
In general, you have 3 main options:
Microsoft Excel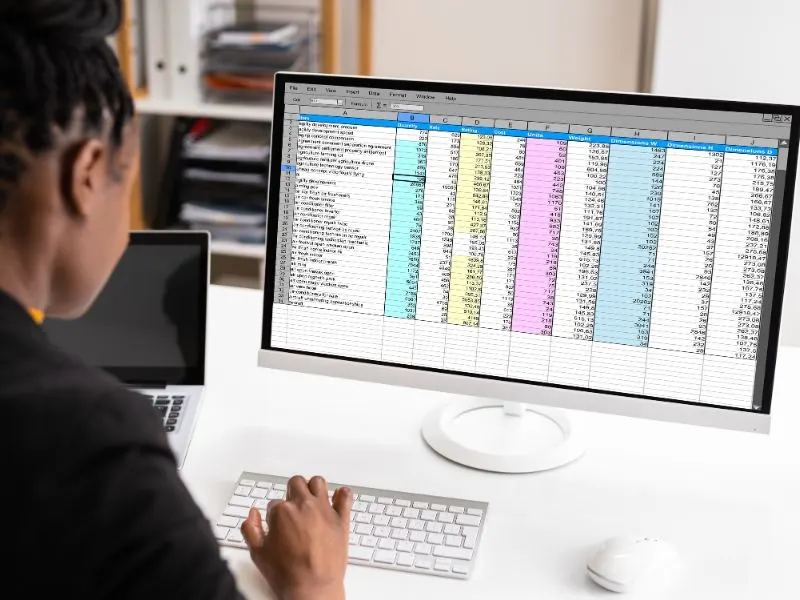 For many people this is the original and best platform for making great spreadsheets.
It is the online platform that most of us started with and are most familiar with.
That said, one negative about Excel is that it is not free.
There are various Microsoft Office paid plans available and they are about $80-100 a month depending on what you need.
Google Sheets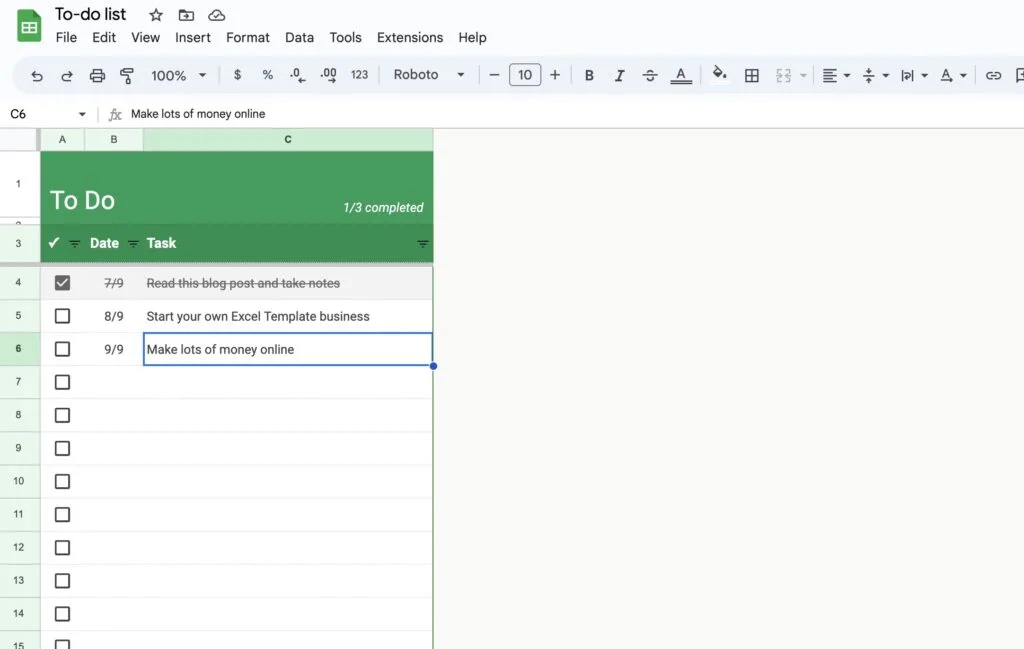 The best thing about Google Sheets is that, like Google Docs, it is easy to use and completely free.
You can create downloadable files or save them onto your Google Drive and simply copy the link to share with your buyers.
It's also really easy to upload a Microsoft Excel file to your Google Drive and open it as a Sheet so that you can work on it.
Apple Numbers
Numbers is the spreadsheet program that comes with all Apple computers for free.
If you are a Mac user, you know that it works much the same way as the other two online platforms and it is really easy to export your files to a PDF or Excel as needed.
Here are some tips for making sure that potential buyers come flocking to your store:
Understand Your Customers Pain Points
Before you start designing your templates, you need to understand the pain points your target audience faces.
What challenges do they encounter while working in Excel?
What tasks do they find time-consuming or complex?
By identifying these pain points, you can tailor your templates to address specific problems and provide valuable solutions.
Keep It Simple
Most people using templates are seeking efficiency and time savings. They want a solution that simplifies their workflow, rather than adding complexity.
Keep your Excel workbooks clean, intuitive, and easy to navigate.
Avoid cluttering the interface with unnecessary elements or excessive formatting. Use clear, detailed instructions and labeling to guide users through the template.
Be Flexible
While simplicity is important, it's also crucial to provide customization options and flexibility within your templates. Different users have different preferences and unique requirements. By offering flexibility, you cater to a wider audience and increase the appeal of your templates.
Consider incorporating features like dropdown menus, checkboxes, and adjustable settings that allow users to adapt the template to their specific needs.
Make Them Look Pretty
Well-designed templates with attractive layouts, color schemes, and typography are more likely to leave a lasting impression on potential customers.
Use appropriate fonts and colors that are easy on the eyes to make them stand out to any potential clients.
Download Your Templates
Unless you are using Google Sheets, once your template is ready, you will want to download it and list it for sale on various platforms.
Make sure to take screenshots of the template in use and even make some videos to help with sales.
Make sure to give your digital files names that make them easy to sort and find – use the same search term a customer might use to find you on Google.
Listing Your Templates For Sale
Every time you create a new product, you will need to create listing images and a description for it. You can then create a listing on your chosen online platform and start selling!
Where to sell your Excel templates?
Now you have made some fantastic spreadsheet templates, where is the best place to sell them?
You can use an online marketplace or you can strike out on your own with a website on an ecommerce platform such as Shopify. Let's look at the options:
Etsy
If you don't want to mess around with a complicated payment gateway or the hassle of creating your own website, Etsy is perfect for you.
Selling digital downloads on Etsy is really easy and the good news is that it is completely free to open an Etsy shop.
Using this link, you can even list your first 40 products for free to get started.
Etsy will charge you a fee and a percentage of each sale so make sure to factor that into your pricing structure.
Gumroad
Gumroad is an online platform that enables creators to sell digital products directly to their audience.
They handle the payment processing and delivery of the digital products, making the selling process seamless and easy for new sellers.
There are no monthly fees but you will pay 10% of each sale, not including PayPal and credit card processing fees.
As a creator, you can set your own pricing, create promotional offers, and customize the look and feel of your product listings.
When a customer makes a purchase, Gumroad securely processes the payment and delivers the digital product to the buyer.
Payhip
Payhip provides customizable product pages and secure payment options, allowing customers to make purchases with ease. When a customer completes a purchase, Payhip securely processes the payment and delivers the digital product to the buyer.
Payhip is very similar to Gumroad in that it does not charge a monthly free for its free account but rather, they take 5% of the proceeds of each sale.
Your Own Website
Want to avoid costly transaction fees?
Then starting your own WordPress site to sell digital files is a great idea.
You will have full control of your product and the amount of money you make.
It is super easy to start your own website using WordPress and you can be up and running in a matter of hours.
Bear in mind that you will need to market your products to make people come to your store.
Shopify
Not quite ready to go it alone with your own site?
Why not create an online store on Shopify and use one of their simple templates to have a template store ready in minutes?
Freelance Platforms
The last option is to list your templates for sale on a digital marketplace.
Fiverr is a popular freelance platform where you can list your Excel templates and reach a worldwide audience.
It is a good place to get started if you don't have a lot of money and need to make some extra cash.
Best Tips For Promoting Your Excel Template Business
You have learned how to make Excel templates but you need to know how to sell Excel templates online.
And that involved promoting and marketing your products.
Promoting your Excel template business is essential to attract customers and generate sales.
Here are some effective strategies to get the word out and increase visibility:
Build an Online Presence
In addition to creating a website to showcase your templates, make sure to leverage social media platforms like TikTok, Pinterest and Facebook.
Post videos of your templates in use and make sure to use hashtags to get new followers.
Content Marketing
Start a blog or create video tutorials on your YouTube channel that provide valuable tips and insights related to Excel and template usage.
Share your expertise and establish yourself as a trusted resource in your niche.
Offer Free Templates
It might sound silly but offering potential a free taste of your product is an easy way to boost sales.
You could provide a free trial of your premium templates to showcase their quality and functionality.
Alternatively, offer a free download of a basic template but list a more complex one for sale.
Make sure to add the link to the paid-for template to encourage the upsell.
Offering freebies allows potential customers to experience the value you offer and encourages them to make a purchase.
Engage with Communities
Participate in online forums, groups, and communities where Excel enthusiasts gather.
Answer questions, offer advice, and share your templates when appropriate.
Be genuine, helpful, and establish yourself as an authority in the community.
Email Marketing
Build an email list by offering a newsletter or exclusive content.
There are many free email marketing providers you can use when first starting out.
Make sure to send regular updates, freebies and promotional offers to your subscribers.
Let them know whenever you have a new product available that might interest them.
How To Sell Excel Templates Online: Final Thoughts
We've come to the end of our guide on how to sell Excel templates online so now it's time for you to get to work.
Brainstorm a list of the best templates you can create and make a goal to list one a week for the next 6 months.
Before you know it, you will have a bustling side business as a spreadsheet-maker extraordinaire!
Good luck!