If you're like most people, you probably dream of having a job that's enjoyable and fulfilling. Imagine how fantastic it would be to make money from your hobby.
It may seem like a pipe dream but you might be surprised to learn that it is actually possible to turn your passion into profits.
You might not be able to fully replace your regular job right away.
However, you could earn some extra income or more for something you would be doing anyway.
This might enable you to:
Save for a house downpayment
Build up an emergency fund
Go debt-free for the holidays
Take the kids to Disney and so on.
Read on for some tips to get started then download your free ebook full of ideas for turning your hobby into a money-making side hustle.
Download Your Free Ebook On Making Money With A Hobby
Just fill out the form below to automatically download this 26 page ebook.
How To Make Money From Your Hobby
The two basic ways to make money from your hobby:
1. Teach Others
Someone out there would like to learn what you know.
Don't make the mistake of believing that you have to be one of the world's top ten leading experts on something in order to make money at it.
Nothing can be further from the truth!
If you know more about something than anyone on your street, you can certainly make money teaching others.
Some ways to teach include:
2. Sell a related product or service.
Hobbies require supplies.
Other people may as well be purchasing those supplies from you.
If your hobby is collecting something, you can buy and sell whatever it is you collect. eBay and other second-hand marketplaces are great for that.
Another option is to create a business related to your hobby.
For example:
More Examples of Hobbies Turned Businesses
5 Steps To Turning Your Hobby Into A Business
It's easy to get started with a small business and you shouldn't have a huge overhead, especially if you already have all the supplies you need for your hobby.
1. Find Your Calling.
Your business can be created around a talent you have or a hobby you love. For example, if you love baking, you could start a dog treat business.
Brainstorm the things that you like doing in your spare time and see if any of them can be turned into a profit-making venture. If you come up blank, check out the ideas above and get yourself a new hobby!
2. Do The Legal Stuff
Register your business and apply for necessary licenses. Registering your home business is a very simple process.
In the US, all you need to do is register your business name through the U.S. Small Business Administration and apply for a tax ID.
You will also have to register your business through state agencies.
Applying for licenses is necessary if your field is regulated – for instance, if you prepare food, work with dangerous chemicals, or provide services that require special qualifications such as legal advice or accounting.
In Canada, you can register your business name with your province, in Ontario this costs $60 and is done completely online so is very easy cost-effective.
3. Create A Business Plan
A business plan is provides a blueprint for your business and will help you obtain funding for your project (if you need a small business loan from the bank, for example).
Explain the purpose of your business is and how you'll achieve your goals.
Talk about the kinds of products you want to sell or list the services you'll be providing.
Define your target audience in as many details as possible. *
Outline for your marketing strategy and include your expected prices as well as how much profit you expect to generate.
4. Explore your financing options
Go over your budget and business plan carefully to assess how much money you require.
Look for investors among your friends and relatives, or angel investors through local business associations. Borrowing money is usually your best option if you cannot find investors for your project.
In the US, the U.S. Small Business Administration is a great place to get started with financing, but you could also contact your financial institution to learn more about the business loans they offer.
Also look for associations that lend money to specific groups such as minorities and women in business if that applies to you.
5. Get To Work!
Be aware that in order to make money from your hobby, you will need to dedicate time and hard work.
The hardest part of building a business from the ground up is marketing; you must market yourself and your business to get clients or customers.
Tell your neighbors and family members about your plans.
Post an ad on Craigslist.com.
Make a website.
Imagine the excitement you'll feel the first time you cash that check for doing something you used to do for free!
Free Ebook On Making Money With A Hobby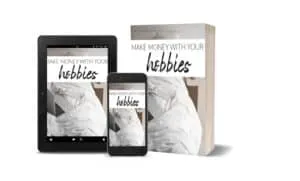 Just fill out the form below to download my 26 page ebook.