Digital downloads are like little nuggets of virtual magic that allow you to access and enjoy digital content without the fuss of physical products.
If you have always wanted to have your own online empire but don't know where to start – learning how to sell digital products on Shopify can be a great way to launch your online life!
In this post we will show you the types of digital downloads to sell on Shopify as well as how to create an online store that gets lots of sales!
Read on for all our tips and tricks!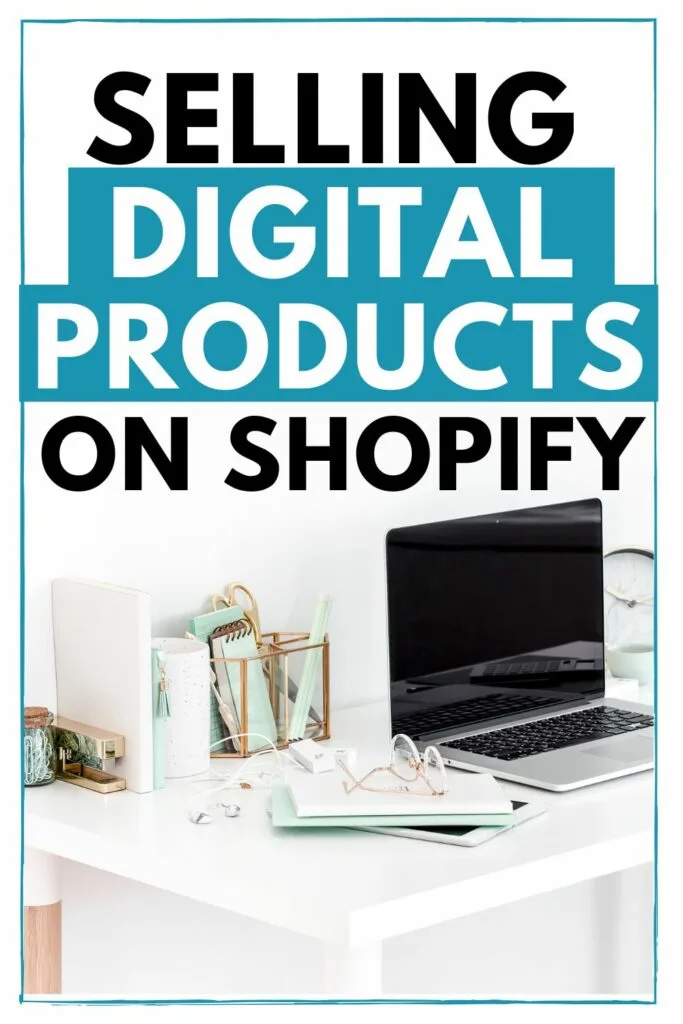 This post may contain affiliate links. Please read my disclosure for more information
MORE WAYS TO MAKE MONEY ONLINE
14 Strange Things To Sell Online
11 Easy Ways To Get Paid To Post Comments
What are Digital Downloads?
Before you learn how to sell digital products on Shopify, we need to understand exactly what we are talking about.
Essentially, digital download means anything that you can buy online and then download to your device
These gems can be anything from e-books, music tracks, software, online courses, videos, design templates, and even cat memes – all neatly packaged in a digital file.
When a buyer purchases a digital download and hits that download button, the digital files go from the mystical cloud straight to their device.
That's the beauty of digital goods – there's no waiting for shipping, no need for shelf space – it's all right there in your digital treasure chest.
The beauty for consumers is that they can enjoy them instantly without spending hours tracking the Fedex truck.
What are the benefits for selling digital downloads?
For sellers, the advantages to selling digital downloads are many.
With physical goods, you need to worry about shipping, packaging, storing inventory and managing your supply chain.
Conversely, when you sell digital products, there is no printing or mailing out packages.
You don't need a huge warehouse full of products because everything is stored neatly on your computer.
Another huge advantage of selling digital items is that you only need to create a product once but you can sell it over and over again.
Compare that to selling, say, homemade soap.
You will need to make each bar, then package it and ship it.
If you sell something like digital art, all you need to do is create the artwork, list it for sale and then you can sell it many times to different people.
All without doing any extra work!
The fact that you don't actually need to buy physical supplies or pay for shipping means that digital products have really high profit margins – meaning more money in your pocket.
Why Is Shopify A Great Place To Sell Digital Downloads?
Shopify is an online marketplace that gives you a great opportunity to sell your digital products to the whole world. Here are some of the things we love about the site:
Ease of Use: Shopify's user-friendly platform is like a digital playground for all, whether you're a tech guru or a newbie. Creating your store, adding products, and managing orders is really easy!
Design strength: With a huge range of snazzy themes and customization options, you can make your site look unique in a snap.
Mobile-friendly In this mobile-obsessed world, Shopify's responsive design ensures your store looks dazzling on any device, from oversized tablets to pocket-sized smartphones.
Easy Payments: Shopify spoils you with a plethora of payment gateways, ensuring your customers can splash their cash with the method they love.
App-tastic: The Shopify App Store is a treasure trove of apps that add functionality to your site. From marketing to downloads, there are tons of great business tools.
Sales Savvy: Shopify comes armed with tools to track sales, analyze trends, and offer insights for your specific needs.
How Much Does Shopify Cost To Use?
The monthly fee of $39 includes your website and payment processing.
There are no limits to the prices you can set and, aside from credit card fees, there are no extra transaction costs to pay on your sales.
What are the best digital downloads to sell on Shopify?
So now you know you want to create your own digital products but what type of product will make you the most money?
Here are some easy digital products to make and sell for a profit:
Digital planners: From budgeting guides to wedding planners, everything is digital nowadays.
Stock photos: If you are good behind the lens, why not sell your stock photos online?
Templates: Business tools such as spreadsheets and letter templates are really useful.
Coloring Pages: Unleash the inner artist in your customers with intricate coloring pages featuring anything from enchanted forests to quirky creatures.
Workout Guides: Get people moving with downloadable workout routines, complete with illustrated instructions and motivational pep talks.
Guided Meditations: Offer a collection of serene audio meditations, perfect for those seeking a moment of zen in the digital chaos.
Greeting Cards: Sell bundles of witty digital greeting cards that people can personalize and send electronically for every occasion.
Recipe Collections: Curate a digital cookbook featuring your most delectable recipes, accompanied by mouthwatering food photography.
Travel Guides: Arm wanderlust souls with detailed digital guides to uncover hidden gems and local secrets around the globe.
Online Courses: Offer video tutorials on anything from photography basics to DIY home improvement projects, helping learners level up their skills.
Remember, the digital realm is your playground.
Dive into your passions, tap into the interests of your audience, and let your creativity run wild as you craft these unique digital delights for your Shopify store.
How To Sell Digital Products on Shopify: Step-by-Step Guide
Once you have decided to start your own digital product business, it's time to get ready for your launch.
It is so easy to set up your Shopify store plus you can do a 3 day free trial to see if its for you!
Here are the steps to take to ensure your Shopify store is a resounding success!
Step 1: Preparing for Launch
​Create Your Product
Start by brainstorming what digital products you want to sell.
Think about your passions, skills, and what would excite your potential customers.
You want to make sure the products you choose are in high demand to ensure that customers actually buy your items!
Next it is time to actually create your digital downloads. Whether it's an e-book, music track, or design template, make sure it's polished and well put-together.
You don't need to be an expert in graphic design to make amazing digital templates.
You can use a product such as Canva or even Google docs to make products that shine.
Don't forget about the legal stuff
Register your business, decide on a business name, and ensure you're compliant with taxes and regulations in your region.
Step 2: Setting Up Your Shopify Store
Now it's time to open your own Shopify store!
To create a Shopify account, visit the Shopify website and sign up for an account.
Choose a unique store name and a domain name if you have one.
You can follow the set up wizard to get the ball rolling.
Pick a Shopify theme that reflects your brand's personality and the kinds of products you sell.
Adding Your Products To your Online Store
The next step is to add your digital products to your store.
If you are already selling products on Etsy or somewhere else, you can easily import the data to save yourself time.
Prepare Your Listings
Just like physical stores use end caps and display cabinets for their products, you will need to showcase your products on an ecommerce platform too.
Make sure to include captivating descriptions and titles to your product page. The more information you can provide, the more chance that customers will find your shop.
You will want to add lots of great photos of your creations to your digital product store.
Use mock-ups and different photos of the product being used.
If possible, it is a good idea to add video previews of your product in use so that potential customers can understand how it can be used.
Don't forget to download the Shopify free app to make it easier to track your sales too!
Step 3: Make your digital store look amazing
While Shopify is by far the best platform to sell your digital products and keep complete control of pricing, you still need to bring customers to your store.
Unlike selling digital downloads on Etsy or even eBay, the Shopify platform does not bring customers to your online store.
You'll need to attract your target audience by selling popular digital products and by making it easy to buy them!
Like all e-commerce platforms, you can use a logo and color scheme to create your brand identity.
You will also want to include the following pages on your online store:
Navigation: Organize your products into clear categories, making it a breeze for visitors to find what they're looking for.
About & Contact Pages: Craft an "About" page that tells your brand's story and a "Contact" page so customers can easily reach out.
Reviews: Once you start getting customer reviews, make sure to include them in your store.
People like reading reviews before making a purchase.
Step 4: Payment & Shipping Logistics
Under store settings you can set up your payments and shipping (or not) information.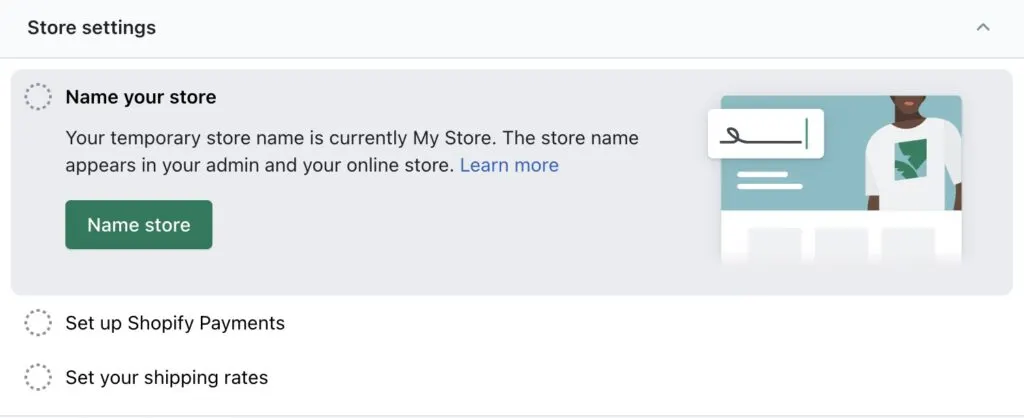 Now for the good news – as you are selling digital goods, you don't need to worry about tracking and shipping information.
When you are creating your listing, make sure to uncheck the box marked "This is a physical product".
This will disable the shipping notification emails as you are selling a digital product only.
Another box to uncheck is the "track quantity" section. There are no inventory limits to digital products as you can sell as many as you like!
Setting Up Digital Delivery
Another item to set up on the Shopify dashboard is digital delivery.
While you won't be shipping any physical items, you still need to deliver your products to your customers.
To do this, you can use Shopify's Digital Downloads app.
This is a great app that will allow you to:
Add PDFs, JPEGs, ZIP files and more to any product right from the app.
Set a custom download limit and send links any time upon purchase.
Combine digital files with physical or digital product variants.
Once a customer purchases one of your products, the Shopify mobile app will send an email with a link to download the file.
While this may be all you need in the beginning, as your business goes, you may want to explore a more robust digital products app like Sky Pilot or Sendowl.
These third-party apps have more bells and whistles but they do come with a monthly fee from $10+.
Step 5: Launch and Promoting Your Store
Before launching your site, make sure to run a test order to ensure everything goes smoothly for your customers.
You can do this either by running Shopify payments in test mode or by giving yourself a 100% coupon code.
Now it is time to market your store!
The best places to promote your shop will depend on the type of digital product you are selling.
Some may go better on Instagram and TikTok while others will sell better through Pinterest marketing.
Regardless, make sure to create pages on all the major social media platforms – the more social proof you have of how wonderful your products are, the better!
Another way to boost your sales is to offer promotion codes or even free trials to potential customers.
his can allow them to try out your product for free or at a discount – encouraging them to make a real sale afterwards.
One of the best ways to boost digital product sales is to harness the power of brand marketing through affiliates and influencers.
You can offer social media influencers free products or payment in return for promoting your products to their followers.
Likewise, you can use an affiliate marketing site such as Sendowl to offer a % of commission to your affiliates for every sale their drive to your store.
This is a great way to boost your sales and brand awareness without a huge investment.
2 Other Places To Sell Digital Downloads
Now you know how to sell digital products on Shopify, where else can you list your products?
Although it can be hard to get higher profit margins that via your Shopify store, to really boost sales, it helps to list your products in a few different spots if possible.
Here are some of the stand-outs:
Etsy
It is completely free to launch your Etsy store and start listing your digital downloads.
The nice thing is that you can tap into Etsy's huge global reach to get customers to see all your amazing digital products.
While there is no monthly subscription fee, bear in mind that you do pay per listing and also Etsy takes a percentage of each sale.
Learn more about selling digital downloads on Etsy here.
eBay
Etsy is another great online marketplace that doesn't charge a subscription fee.
Like Etsy, you can expect to pay a transaction fee for everything you sale as well as PayPal fees during the checkout process.
It's is really easy to sell digital downloads on eBay and you can make great money!