Do you want to learn how to sell digital downloads on eBay? Business owners all over are turning to digital products as sales of physical items decrease.
Digital products are easy to sell and can be extremely profitable if you know what you are doing.
In this post, we will show you exactly how to have success on the original online marketplace and make the best digital products.
You'll learn:
The specific rules on eBay for selling digital downloads
How to create digital files to sell on eBay
The most profitable digital downloads to make
Other places to sell digital products online
This post may contain affiliate links. Please read my disclosure for more information
MORE TIPS FOR SELLING DIGITAL PRODUCTS
6 Digital Products To Sell On Your Blog
How To Create Digital Downloads To Sell On Etsy
How To Sell Digital Downloads On eBay
Digital downloads are all the rage right now. They are easy to make and even easier to sell.
But what exactly do we mean by digital downloads and is eBay the right place for your online business?
What Are Digital Downloads?
Digital downloads refer to electronic files that can be purchased and downloaded online.
There are all types of digital products such as:
e-books covering a variety of genres such as self-help, fiction, and educational material.
Music downloads, including singles, albums, and soundtracks, are also in high demand
Software programs and plugins, offering solutions for productivity, creativity, and security, rank among the top sellers
Graphic design templates, such as logos and website themes
Digital art, including illustrations
Electronic Tickets
Stock images
Digital products are basically the opposite of physical products that are shipped to you.
With someone buys a digital product, they can immediately access the digital file after purchase, typically through a download link.
They can then use the product right away without waiting for it to arrive in the mail.
Why is eBay The Best Platform For Digital Sales?
eBay is a globally recognized online marketplace that connects buyers and sellers from around the world.
Founded in 1995, eBay has become a go-to platform for individuals and businesses alike to buy and sell all kinds of items.
You are more than likely familiar with the classified ad format of eBay that hasn't really changed since it was launched back in the 90s.
As the online world has grown, eBay has continued to be a successful business and now you can sell a wide range of digital products on the site alongside vintage items, used books and more.
Why Are Digital Product Sellers So Successful Right Now?
There are many digital sellers doing a thriving business on eBay right now because this kind of product is in high demand.
Digital downloads offer convenience, instant delivery, and the ability to access and enjoy the content on various devices.
People love having instant access to things they purchase and for sellers, they are easy to sell through online marketplaces like eBay.
The other advantage is that digital products are much cheaper to sell and buy. There is no packaging or shipping costs and no need to take a trip to the post office.
Additionally, with many virtual items, you can make the product once and then sell it again and again on eBay.
This means that you will get paid multiple times for your work.
Does eBay allow you to sell digital products?
Yes, eBay allows the sale of digital products on its platform.
eBay recognizes the growing demand for digital goods and has implemented specific guidelines and features to facilitate the sale of digital products.
You can list and sell various types of digital downloads, such as e-books, music, software, and more. eBay provides tools for sellers to securely deliver digital files to buyers, ensuring a smooth transaction process.
Are there any rules when selling digital downloads on eBay?
While eBay makes it really easy to sell digital downloads on the platform, you do need to be aware of some rules.
First of all, pornographic content such as explicit photos is not allowed and will lead to account suspension.
Secondly, just like with other platforms selling downloadable products, you need to be very careful with copyright law.
In general, you cannot use brand names, trademarked phrases or images or characters.
Be really careful with using any images from cartoons or famous people as they can land you in a lot of legal trouble with copyright infringement.
You should also be aware that copying the intellectual property of other eBay sellers is also a no-no and will result in suspension.
To keep it legal, you can find lots of graphics and fonts with a commercial use license on a site like Creative Fabrica.
Can you actually make money selling digital downloads?
Compared with physical products, the money making possibilities for selling digital downloads on eBay are endless.
There are many digital product sellers who are making six figures selling something over and over again.
The beauty of selling digital files is that you can make the product once and sell it a hundred times over.
You also don't have to worry about the overhead costs of inventory storage, shipping or owning a physical brick and mortar store.
Step-By-Step Guide To Selling Digital Content on eBay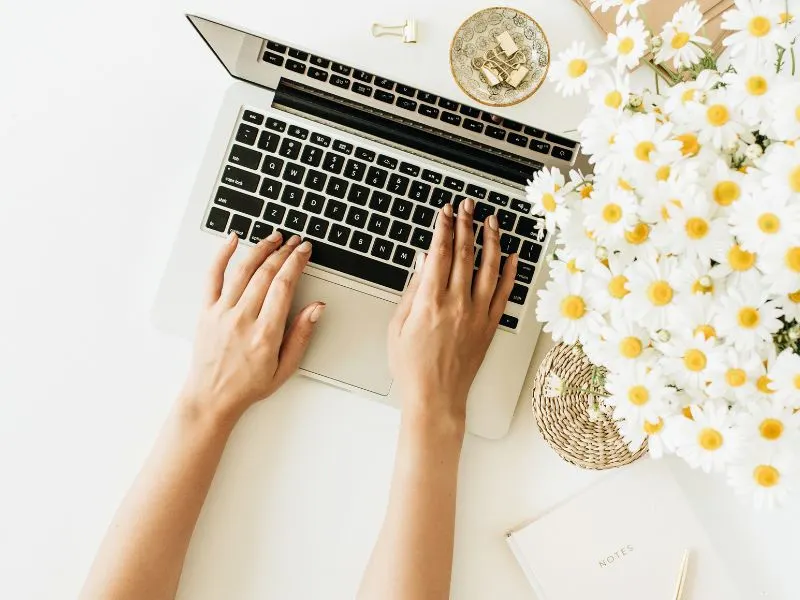 Pick The Right Product
First things first, choose your digital product wisely.
It could be an e-book, a digital artwork, a graphic design template, a software program, or even a personalized digital service.
The possibilities are endless! Just ensure that your product is unique, valuable, and has a target audience that you can reach through eBay.
To do this, take some time to look at current eBay listings for digital goods and see what is selling and what isn't.
To make your research easier, you can look at the sold items on eBay. Here's how to do that:
Go to the eBay website.
Enter the item you are searching for in the search bar at the top
Click the blue "Search" button
Click "Advanced" (next to the "Search" button)
The advanced search box will pop up and from there you can check the "sold" listings filter.
What Are The Best-Selling Digital Products On eBay?
There are so many amazing digital products you can add into your online store.
You may already have a great idea for a product or might want to check what kinds of things are already selling.
Here are some of the most popular digital products on eBay right now:
Online courses on all kinds of topics
Social media templates for brands and businesses
Audio files
Video Game files
Digital Trading cards
PDF greeting cards
Stock Photos
Digital textbooks
How To Create Your Digital Files
How you make your digital products will really depend on the kind of products you are making.
For example, if you want to make Excel templates to sell, then Google Sheets or Microsoft Excel works great.
If you are making digital art, you might use a program such as Procreate or Adobe Photoshop.
Alternatively, digital worksheets or online course could be made using a program like Canva or Word and then downloaded as a PDF file.
Create Your eBay Account
Before becoming successful at selling digital downloads on eBay, you need to set up your account on the website.
Here's how to do that:
Head over to eBay's official website at www.ebay.com.
Look for the "Register" or "Sign Up" button on the homepage and click on it to begin the registration process.
Decide whether you want to create a personal or business account. If you're planning to sell items as an individual, a personal account is suitable. If you're running a business, a business account provides additional tools and features tailored to your needs.
Fill in the required fields with your personal details, including your name, email address, and a secure password. Make sure to choose a password that is unique and not easily guessable.
seBay will send a confirmation email to the address you provided during registration. Access your email inbox and click on the verification link within the email to confirm your account.
To buy or sell on eBay, you'll need to link a payment method to your account. Options include PayPal, credit/debit cards, or other accepted payment services. Follow the prompts to set up your preferred payment method securely.
Explore your account settings to personalize your eBay experience. You can add a profile picture, set communication preferences, and configure notification settings according to your preferences.
Create Eye-Catching Listings
Creating an eBay listing is like brewing a magical potion – you need the right ingredients to cast a spell on potential buyers.
Craft an attention-grabbing title, sprinkle it with carefully chosen keywords, and add a dash of humor or quirkiness to stand out from the crowd.
Remember, the goal is to entice buyers and make them think, "Wow, I need that in my life!"
Write Amazing Product Descriptions
Your product description will help your listing get found in eBay search results.
Be descriptive, share all the important details, and use keywords that describe your product.
One tip I have is to make sure that potential customers know that they are buying digital designs so they don't expect to receive anything in the mail.
Take Lots Of Pictures
You may think that it is hard to show off your digital files in photos but you can do it in various ways.
You can either print them off and show them in use or take screenshots of your files and add them into photo mock-ups. (you can find free ones on a site like Canva).
Price It Right
Pricing can be a tricky game, but fear not! Research similar items, take note of their prices, and aim for a competitive yet profitable figure.
Consider offering free shipping or bundle deals to sweeten the pot.
Remember to factor in the eBay transaction fees in anything you sell.
In general, the most profitable digital products on eBay are not necessarily high-priced.
Downloadable or printable products can be listed at low prices and sold over and over again.
For example, let's say you create a video course showing people how to do make-up.
You only need to record the video tutorials once but you could sell it many many times over.
People do typically expect a discount on digital items compared with physical products so bear that in mind too.
Market Your eBay Shop
While there is no doubt that eBay is one of the best marketplaces for selling things online, it is a good idea to promote your products as much as possible to boost sales.
To do this, you can create social media profiles and link your products on the eBay marketplace there.
You could also engage in email marketing by asking buyers to sign up for your mailing list and then keep them posted on your new digital products for sale.
Setting up an email list is easy and there are a lot of free email providers you can use too.
More Places To Sell Your Digital Downloads
You know how to sell digital downloads on eBay but why stop there?
Another way to make more money is to list your digital product ideas on more than one site.
Sure, eBay is one of the best places to start but why not get more sales by reaching a wider audience?
Here are some other places online sellers love:
Etsy
The list of digital products that you can sell on Etsy is huge. Some of the best selling Etsy printables and digital products include information products such as school worksheets and digital journals.
Selling printables on Etsy is a great way to enhance your eBay offerings and chances of a sale.
Teachers Pay Teachers
If you are in the realm of worksheets and teaching tools, then Teachers Pay Teachers is a great place to sell your own digital downloads.
The most popular items on the site include worksheet bundles, test prep sheets and kindergarten reading tools.
Your Own Website
Opening your own online store to sell your digital downloads means that you have 100% control over pricing and products.
The good news is, it doesn't cost much to start your own online business and you can be up and running in just a few hours.
You could start your own website completely or you could use an ecommerce platform such as Shopify for a small monthly fee.
The downside to going it alone is that you do not have the built in audience that is available on eBay or Etsy.
Creative Market
Creative Market is the place where many graphic designers sell things such as fonts, website templates and stock photography.
It is the right place to sell digital files that are made for other businesses such as brands and bloggers to use.
How To Sell Digital Downloads on eBay: FAQS
Is selling digital photos on eBay a good idea?
If you are an avid photographer, why not make some money selling your digital photos on eBay?
While there are many places to sell stock photos online, eBay is a little bit of a newer option meaning that competition might be a little less.
Unusual and vintage photos are very popular.
Can you sell PDF books on eBay?
Yes, you can sell PDF books on eBay.
Whether you write erotica or want to make money writing short stories, eBay is a great place to sell your PDF ebooks.
eBay allows the sale of most digital products, including e-books in PDF format.
This is a great alternative to selling your ebooks on Kindle Publishing.
As a seller, you have the flexibility to list your PDF books for sale, attract potential buyers, and deliver the digital files to customers after purchase.
You don't have to worry about shipping heavy books or paying for book publishing.
When creating your eBay listing, make sure to provide accurate and detailed information about the book, including its title, author, description, and any additional bonuses or features.
Additionally, consider using high-quality images or cover art to enhance the appeal of your PDF book.
What eBay category do I use for my digital files?
Just like with old school classified ads, it is important to put your eBay listings in the right category in order to make sure customers find them.
In general, you should make sure to match your digital products with the corresponding category.
For example, for many information products such as PDF courses, you can use the "everything else" >> information products eBay category.