This list of side hustles for nurses is packed with ideas for making money as a nurse.
Whether you are looking for the best work from home nursing jobs or just some fun nurse side hustle ideas that you can do in your spare time – we have them all.
Although you might think that it is impossible to find side jobs for registered nurses that will fit your crazy lifestyle and schedule, there are lots of second job ideas for nurses to make extra money.
From babysitting and dog walking to tutoring and selling items online, there are plenty of options available. The best part? You can start earning extra income right away!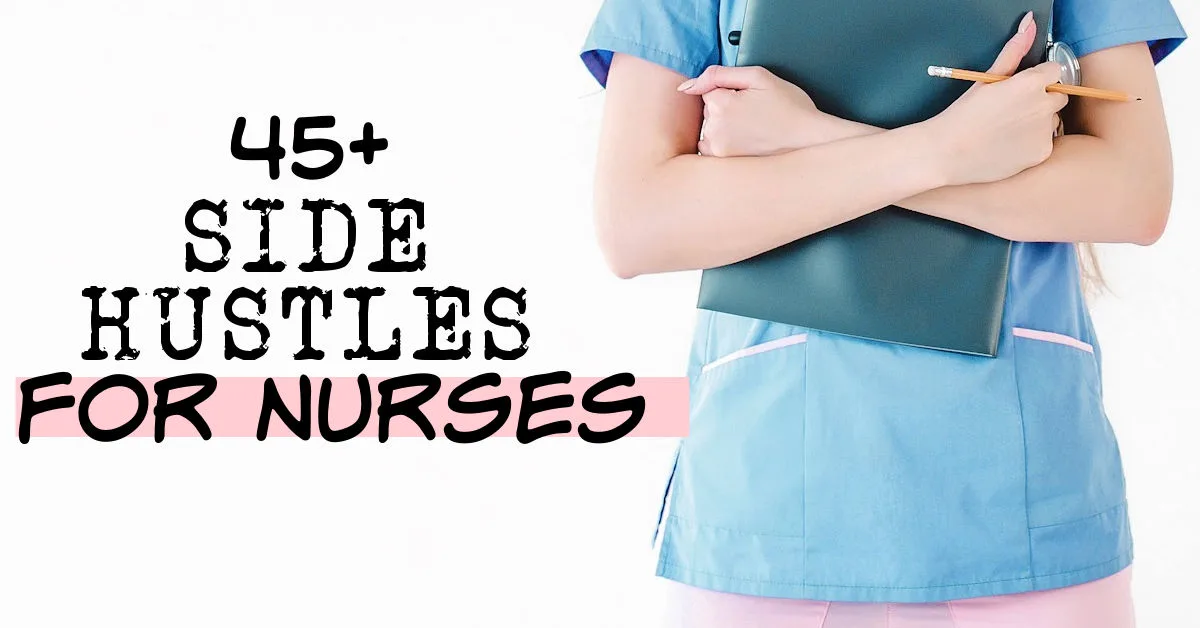 This post contains affiliate links. Please read my Disclosure for more information.
RELATED POSTS
10 Best Ways To Make Money With Your Car
45 Side Hustles For Nurses
Wondering how to make extra money as a nurse?
Nurses are often looking for extra cash. What if I told you that there were RN side hustles?
You can make a little extra cash on the side and still work full time as a nurse.
The best thing is, some of these gigs won't even take up your precious weekends or evenings!
Here are some of the best nurses side hustles out there:
Per Diem Shifts
The most obvious way to make extra money as a nurse is to do more nursing.
There are many companies offering per diem nursing gigs that allow you to pick up a few extra shifts without any commitment.
For example, in the USA, Clipboard Health is always looking for:
Certified Nursing Assistants
State-Tested Nursing Assistants
Licensed Practical Nurses
Licensed Vocational Nurses
Registered Nurses
You can work as much or as little as you like, whenever you like
CPR Instructor
One way to make money as a nurse is by becoming an instructor for CPR classes.
You would educate groups on how CPR works and demonstrate basic safety skills, as well as distribute certificates accordingly.
In order to become certified, all you need to do is get one class from an accredited organization like the Red Cross or company approved by the American Heart Association (AHA).
Sell Crafts Online
I would say that this is one of the most popular side hustle jobs for nurses as you can really do as much or as little work as you like – on your own schedule.
If you are crafty, you can work on your projects in your spare time or even when it is quiet at work (if it ever is).
A craft hobby can also be a nice way to relax and unwind.
You can make a lot of money selling things on Facebook, at craft fairs or on Etsy.
You may think you are not crafty but you will be surprised at how much crafts made with a Cricut or even kid-made crafts can sell for.
Read this post for the 451 best selling crafts to make and sell.
Lactation Consultant
This is a nursing side hustle that is perfect if you love babies.
An LC helps new moms and babies get breastfeeding right which is often easier said than done.
If you work in the infant nursing sector, you are more than likely experienced with this and can easily make the leap to being a work at home lactation consultant in your free time.
Start An Etsy Shop
An Etsy shop can start off as a side job for nurses and then turn into a full-time gig, as it has for thousands of creatives.
You don't even need to be really crafty to make money with Etsy.
One of the biggest sellers on the platform are printables which are digital downloads such as planners and stickers.
I opened my Etsy Shop about 8 months ago and it is so much fun to see the sales come in.
The good news is that you don't actually need to be crafter to become a successful Etsy shop owner, in fact the number 1 top seller on my list of 50 Etsy Shop Ideas is not a craft at all.
It costs nothing to open your own Etsy store and can be a really fun way to make extra money, with unlimited income potential.
Become A Flea Market Flipper
Selling things you find at flea markets or thrift stores for a profit is a great way to make extra money as a nurse in your spare time.
You can get started for free by looking for no-cost items on the curb or on Craigslist.
Once you have exhausted those options, you can start looking for items that you can buy low and sell high for a profit.
What items are great for flipping for a profit?
Here are the best things that you can buy and sell for a profit, you will probably be surprised at some of the weird things that people buy!
This is a great side hustle for single moms – you might be shocked to learn that there are flea market flippers who make six figures with this side hustle.
Health Coach
If you are interested in staying in the medical field and looking for nursing side hustles, why not look into coaching?
The health coach is an individual who assists individuals in making lifestyle changes and that improves their overall well-being.
Health coaching includes nutrition, daily eating habits and exercises.
You can also take your side hustle as a health coach one step further and specialize. For example, become a fertility coach or expert on healing back pain.
Get Paid To Talk To People Online
All you need is internet and some spare time to Get Paid To Chat Online .
Ladies, I'm not talking about working on "adult" (ahem) chat lines (although you can most definitely get paid to sext).
No, you can seriously get paid to chat to lonely people, to flirt with men with no strings attached and to help people with their problems.
If you like making small talk with strangers this is one of the best ways for nurses to make extra money.
As you can work after hours on your phone or laptop, this job can fit around your schedule.
First Aid Instructor
If you want to stay in the nursing field and are looking for healthcare side hustles, try becoming a first aid instructor for St John's Ambulance or the American Red Cross.
The position is easy to find and requires minimal training for those who are already nurses.
Most people are required to take a first aid course during their life because of workplace safety requirements or personal safety reasons so this side hustle for nurses is always in demand.
Affiliate Marketing on Pinterest
If you are not interested in starting a blog but want to make some money on social media, you can make money using affiliate links on Pinterest without a blog or website!
Affiliate Marketing is a great way to make money recommending products you already use and love to other people – then getting paid a commission for your work.
Dog Walking
If you are a canine lover, working as a dog walker can be a regular and lucrative side job that requires few hours for the good money.
You can make even more money if you can petsit for people when they are on vacation. A love for animals and a safe space in your home are really all you need.
Learn more about starting your own dog walking business and find out the best apps to join here.
Medical Transcription
Did you know that you can get paid to type at home?
Become a medical transcriptionist and work from home in your own time. Transcriptionists listen to court or medical recordings and type down everything they hear.
This is a great side hustle you can do after the kids are in bed whenever you want.
To get you started, Janet from Transcribe Anywhere has a great free course you can take.
Learn more about working as a transcriptionist here: How To Make Money Transcribing At Home
Teach Online
If you love children and want to do something fun in your spare time, how about teaching with Outschool?
You can teach anything from first aid for kids to something completely different.
The great thing about Outschool is that you can set your own schedule meaning you can plan your classes around your nursing shifts.
Medical Coding
If you work in the United States, you probably know that you need an advanced degree in insurance practices just to understand the different medical coding rules.
A medical coder analyzes clinical statements and assigns standard codes so that items are billed correctly.
As a nurse, you are uniquely positioned to work in this field and make money on the side as a medical coder and it can be one of the best places to make great money.
Scoping
What on earth is scoping? This little known side hustle called Internet scoping can net you $70K + a year working from home!
Scopists edit court reporter transcripts after the transcriptionist is finished.
Scoping is a great way to make extra money from home and it one of the best jobs for single moms as you can do it on your free time.
Internet Scoping School offers a free 7 day introductory course on scoping.
Door To Door Nurse
There are many different companies who hire mobile nurses to visit people and attend to their needs such as:
Bathing and washing the elderly
Delivering and administering medications
Taking blood tests for insurance companies and drug tests
Performing sobriety tests
Nurse Next Door is one of the largest companies that hires nurses to work remotely and provide medical assistance in patient's homes.
Start A Podcast
There are actually a lot of nursing podcasts out there that are highly successful so why not jump on the bandwagon?
Here is a list of popular nursing podcasts to give you inspiration.
It's definitely not a get-rich quick side hustle but it can be really fun.
Create And Sell Courses Online
You might think you need to be qualified to teach others but all of us have a skill we could share.
Registered nurses can teach courses for extra cash, develop their own hours and create new classes.
If you're always on the hunt for side hustles, then this is a job that could work well with your nursing schedule.
Anything you are an expert in or are very passionate about can be made into a course that you promote and sell online.
Of course, in the beginning you have to work, making and creating your course.
However, once it is made, you could go onto sell it for years to come – completely passively.
Learn more about creating and selling a course online in my in depth tutorial.
Create A YouTube Channel
Similar to a podcast, a nursing YouTube channel is a fun way to make money online.
As one of the original social media platforms, YouTube has millions of visitors every day.
Can you create a channel talking about nursing or an aspect of your job that people might be interested in?
How about health tips for your speciality? Or maybe you can offer tips on deciphering medical records.
If you can teach people something or have a hobby that people like to watch then you can make a lot of money creating videos. Here's how To Make Money With YouTube.
Part-time Caregiver
Nursing skills allow nurses to earn extra money as part-time caregivers. This is one of the most in demand nurse side jobs as our population ages and more and more people need care.
Many different people from the aged to the infirm require in home caregiving by a registered nurse or PSW(personal support worker).
By taking on different part-time caregiving jobs you could easily make $1000 a week part-time.
Medical Surveys
Medical surveys are one of the few side hustles for nurses that can provide a decent source of income.
Online surveys, online focus groups, telephone studies and in-person focus groups when you are looking for other ways to make money as a nurse.
Nurses opinions on medical devices, diagnostic tests, drugs and healthcare technologies are highly valued by companies who want to improve their products or services.
You can earn cash and gift cards from the comfort of home with sites like Swagbucks.
I earn at least $100 a month from surveys and it is easy to just do them for a few minutes here or there when I'm in line or waiting at the doctors.
In addition to completing surveys, you can make money on these sites by watching videos and playing games too.
Here is a list of my favorite survey sites to make money from home.
Plus! Get $5 Free When You Sign Up With Swagbucks!
Get Paid To Refer Friends
You can get paid up to $1000 for recommending products and services to friends and connections on social media and even on your own website.
Here is a list of amazing companies that will pay you to refer friends.
Phlebotomist
A phlebotomist is someone who draws blood and is one of the most lucrative nursing side jobs out there as it is always in demand.
Part-time positions are available for phlebotomists if you work in health centers and clinics and they typically pay around $15 an hour.
As only qualified nurses can take this kind of work, it is always in demand.
Get CashBack For Shopping
Even if money is tight, we all need to do some shopping for groceries and clothing.
I've earned over $3000 in cashback from Rakuten and BeFrugal – Combine coupons with their % cashback deals to make online shopping more rewarding.
Bonus: Get at least $10 free from each of them just for signing up, that's a cool $20 easily!
Join Rakuten Now (current bonus is $30 just for signing up)
Clinical Trial Nurse
Every day, there are thousands of clinical trials taking place around the country and all of them require nurses to help administer drugs, take vitals and check on results.
Most clinical trial nurses are hired directly by the Universities or companies conducting the trial on a casual basis.
This is not steady part-time work but it can be one of the best nurses side hustles when you need extra cash.
Rent Out A Room In Your House
Frankly, the best side hustles for nurses involve little time and effort as your schedule is probably already overloaded.
If you have the space, you can make money from your spare room by renting it out on Airbnb or to foreign exchange students.
This is one of the best side hustles for nurses who have the space.
Renting out a room in your home can provide passive income for nurses who don't have the time for a second job.
Grocery Shopping For Others
Many grocery stores and apps hire drivers to make money picking up groceries for other people.
As you can work whenever and where ever you like, this is one of the best side hustles for nurses who do shift work.
You can see what is available in your area, or check online to find an app that will pay you more than $25 per delivery.
Since the beginning of 2020, more and more people have opted to get their groceries delivered.
Instead of using their own staff, many large stores like Costco are using Instacart for fulfilment of grocery delivery services.
This is one of the best ways for nurses to make extra money without committing to a part-time job.
Sign up for Instacart as a shopper and make money grocery shopping for other people.
Sell Your Stock Photos Online
Do you want to know how to make money as a nurse from home without doing any medical work?
If you are good at taking photos, even with your iPhone, you could start making some money selling them for a profit.
Many different types of businesses and online sites use stock photos almost daily.
I use them all the time on This Work From Home Life and I pay for each and every one.
You can sell your photos online one of the many places that will buy stock photos for money (Here are the 15 Best Stock Photo Sites To Sell Images).
Another option is to create your own business website and offer a membership to people to access your photos.
This is how I access my stock photos and I happily pay almost $300 for the privilege of having quality, beautiful photos to use whenever I want.
Some example of stock photography membership sites include:
Immunization Nurse
Working in a flu clinic or senior centre is one of the best part time jobs for nurses.
Immunization nurses get paid to administer vaccines such as flu shots, which means they are always in demand and the work is largely seasonal.
You can work in a variety of places with different jobs such as patient care, immunizations, and community outreach.
As you can imagine, there has never been more demand for immunization nurses than in the past few years or so making this a great time to start this nurses side hustle.
Deliver Food For Cash
I don't recommend that female nurses work for ride sharing sites like Uber or Lyft due to safety concerns but a great option if you have a car is to delivery food with a site like Ubereats or DoorDash.
DoorDash is a great side job for nurses because of the flexibility it offers.
You can sign up online and deliver food, groceries, or other items on your way home from work or when it's best to do so.
There are flexible hours and location options which makes this one of the best side jobs for nurses.
The nice thing about these kinds of nurse side gigs is you can literally choose when to work and do as many or as few jobs as you like.
You could work in the evenings with the kids in the car or on the weekends when they are at their dads or on a playdate.
Telehealth Nurse
Do you want to know how to make money as a nurse from home? One of the top work from home nursing jobs is working in telehealth.
Telehealth nursing can be a way for nurses to save the healthcare industry both time and money.
With this side gig for nurses, you can help reduce waiting room stays, fill out paperwork, and allow healthcare professionals to care for those who need in-person care while making money on the side.
This is a side hustle for nurses that you can do in your days off or on evenings.
How much money can you make with this work?
Telehealth nursing allows you to earn up to 100 dollars a day while staying at home.
The only requirement is internet access and the ability to speak effectively on the phone.
Make Extra Cash On Fiverr
I mentioned Fiverr earlier on but it really is worth highlighting the number of ways you can make money on this freelancing site.
Take a look at the Fiverr website and you will find all different money making ideas you can do:
Voiceovers – do you have a great radio voice? Here is one for you!
Social Media management – post on the 'gram and Facebook for small businesses
Video Explainer – make the audio for video creators.
As you can see, there are all kinds of fun ways to make money on Fiverr.
Maternal Care Provider
Working with new moms and babies is one of the best side hustles for RNs.
Maternal care providers are in high demand and may offer services as a part-time childcare provider or postpartum doula.
Postpartum doulas help with all aspects of motherhood and baby once the newborn has arrived.
They may stay overnight to assist with feedings and to allow the new mother to get some rest or they may help her get into a routine in the first few weeks.
While the hours can be long and gruelling, this is a great place to make money outside of your regular work.
Cosmetic Injector
While there are many different ways for nurses to earn a living outside of a hospital, many nurse practitioners opt for a different kind of medical field – cosmetic nursing.
A very popular nurse's side hustle is to become a cosmetic injector either for a medspa or at private parties.
This is a great idea for a nurse who wants to work in the evenings or weekends and is looking to help make positive changes in people'\s lives.
You can learn how to inject cosmetic fillers and medicines such as Botox and Juverderm and then administer them to patients.
This kind of work makes a great part-time job and has been growing exponentially in recent years
Nurse Blogger
Nurse Bloggers are people who run their own blog about the nursing profession as a form of patient-focused education.
Take the knowledge you already have and turn it into articles to share with others.
Start-up costs are low (under $5!) and there are many six figure bloggers out there! It is an excellent way to make passive income and pay off your student loans.
If you have a passion for sharing your views about medical care with the world, a blog is a fantastic side hustle. I started my first blog in 2017 and was making over $1000 a month within 3 months.
A blog can be hard work but there is no way I could find a regular job with as much income potential as blogging, especially with such flexible hours.
Check out my step by step guide here – Start A Blog That Makes Money
Camp Nurse
Some second jobs for nurses are only available during certain months of the year. For example, flu clinics are typically open in the fall and winter only.
Likewise, summer camps only require RNs when school is out.
Camp nurses typically only work during the summer, but can make a decent amount of money in a short period of time.
As a camp nurse, you will provide necessary healthcare services such as first aid and ointment administration to younger audiences in a camp setting.
This is a great registered nurse side hustle if you have kids of your own – you will likely be able to get a discount or even a free spot for them to attend the camp while you work.
Proofreading
If you have an eye for details, starting a proofreading business may be for you!
It's an awesome way to make money from home on a flexible schedule.
You can make money working just a few hours a week which makes it one of the best side gigs for nurses.
Proofreading is also one of the few side hustles for nurses that really can make you a lot of money.
You can aim for $50,000+ once you become established and work more hours.
Attention to detail is important for proofreading but other that, it's one of the best jobs for nurses as you don't need any qualifications.
In fact, you can find a ton of proofreading jobs online, no experience needed!
Good grammar, spelling and native English (or whatever language you are proofreading) is really what matters.
And what exactly do proofreaders, proofread? It could be anything from articles on websites, transcripts, court documents or publications.
And as all the work is online, it is one of the better side jobs for nurses from home.
If you're interested in learning more about starting a proofreading business, Caitlin from Proofread Anywhere has an awesome free course to get you started.
Start An eBay Business
A great side hustle for nurses is to start flipping items on eBay or OfferUp for a profit.
This is a great side job as you can work it in the evenings and weekends. all you need to do is scour markets and thrift stores for items that you can flip for cash.
What sells well?
Here are the 13 Best Things To Sell On eBay For A Profit
And here is a list of the bestsellers on OfferUp.
Flipping Blogs For Cash
Ok, so this is one of those side hustles for nurses that sounds a bit weird but is actually one of the best ways to make extra money if you have patience.
I first found out about flipping blogs when I signed up for a course called Blog Flipping Masterclass this past fall.
Chelsea who runs the course makes $200-300K a year just buying up blogs then reselling them for a massive profit.
How it works:
Buy a domain or website for a discount privately or using a broker like Empire Flippers.
Spruce the site up and make any improvements needed
Sell it on for a tidy profit
Want to know more? Check out my step by step guide to website flipping for a profit.
Become A Nurse Consultant
Let other people benefit from your nursing expertise.
Consulting is one of those things that could mean anything and pays big! A consulting side business for nurses can mean a lot of things and it is nearly always lucrative.
If you have an established career as a nurse or are considered an expert in your field, learn how to become a consultant from home and start cashing in on your skills by providing medical advice to those in need.
Birth Doula
If you enjoy working in a hospital setting, becoming a birth doula is an excellent opportunity to help out families without the pressures of nursing.
A birth doula offers help leading up to the birth and then be present for the actual event to support the mother and father through birth.
Full-time, a doula can earn around $45,000 per year depending on experience and location.
The only bad thing about working as a doula is that you never know when a baby is going to be born so it can be hard to coordinate with nursing full-time.
Start A Soap Making Business
Don't want to give up the day job but need some extra money? Handmade soaps are the perfect side hustle for a full-time nurse.
I have a friend who makes a legit income selling handmade soaps at craft fairs and on Facebook Marketplace.
This is a nice home-based business that you can work on in your spare time.
Lots of people love natural beauty products made with essential oils and handmade, artisan stuff is so hot right now.
If starting a business making soap for a profit interests you, I have a tutorial on how to Start A Soap Making Business From Home.
Freelance Health Writer
Have you ever wanted to become a freelance writer but lack the experience to get started? Nurse writers are in demand for blog posts and magazine articles.
Healthcare writers with a nursing background can make additional income from home writing for blogs and magazines around their work schedule.
Freelance writing is a fun RN side hustle that allows you to leverage your expertise and knowledge into an amazing money making opportunity.
Healthcare writing is a good second job for nurses that are creative and have the time to spend writing articles.
Here is a guide to making money as a freelance health writer.
Make and sell candles from home
If you love making crafts, another idea is to make and sell candles from home.
Candles are very popular and it is a very easy and inexpensive way to make more money.
You can make a variety of scents and styles. Candles sell on Etsy for upwards of $20 and they cost very little to make in bulk.
Learn more about making and selling candles here.
Nurse Tutoring
Help nursing students pass their exams by becoming an online tutor.
You can set up your own tutoring business and make money by offering online lessons to students or you can sign up with an agency and work as freelance tutor.
You can make a little extra money by helping students at community colleges or online schools.
If you want to set your own hours, this is one of the best RN side jobs from home.
There are also many other options you could consider, such as teaching in an after-school program at a local school or working for a health clinic.
Travel Agent
If you are a nurse and looking to make some extra cash, consider becoming a travel agent.
It is is one of the best side jobs for nurses because you can do it whenever you like and as much as you like.
As a travel agent, you will earn commission on all sales that you make.
You can also choose whether or not to work full-time or part time. Read more about becoming a travel agent here.
Prenatal Class Teacher
Another nurse side hustle that normally require evening or weekend hours is to teach prenatal (or antenatal) classes to expecting parents.
Nurses almost always teach these classes. Check with you local health regions or private companies that cater to pregnant women for job opportunities.
Travel Nurse
With the current shortage of great medical professionals around the world, becoming a travel nurse is one of the best side jobs.
This job entails working for an agency and filling in at hospitals and health centres around the world. Becoming a travel nurse can be a second job or a full-time job and it pays really well!
Many people find it a wonderful way to make a change in their nursing career. Some per diem nurses make over $85 an hour.
Side Hustles For Nurses – Final Thoughts
If you've ever wondered "how can I make money from home as a nurse" this list has with ideas that anyone with a nursing degree can start right now.
Whether you want to make an extra $300 a month for the little extras in life or you are looking to become rich as a nurse, this list is packed with the best RN side jobs out there.
More Fun Side Hustle Ideas
How To Sell Coloring Pages On Etsy
How To Become A Professional Cuddler
21 Most Profitable Resin Crafts To Sell