If you are into make up and beauty products and you want to start your own business, learn how to sell eyelashes online and you could have a lucrative side hustle on your hands.
You probably already know that eyelashes are big business. False eyelashes have come a long way in the last few years and now they look natural and are really affordable.
According to Business Wire, the false eyelashes market was valued at US$ 1,377.28 million in 2021 and is projected to reach US$ 2,046.61 million by 2028.
This kind of growth makes starting an online lash business a great way to make money online.
Ready to get your lash on? In this post, we will walk step by step through everything you need to know:
How To Start Selling Eyelashes
Branding And Choosing A Name
How To Find A Vendor For Your Lash Business
Where To Sell Eyelashes Online
How To Price Your Eyelashes
Tips For Shipping And Packaging Eyelashes
This post contains affiliate links. Please read my Disclosure for more information
MORE SMALL BUSINESS IDEAS
How To Start An Invitation Business On Etsy
How To Sell Candles From Home in 8 Easy Steps
How Do I Start Selling Eyelashes Online?
To get started with your online eyelash business, you will need to find a supplier and launch your business.
After that you will need to decide where you are going to sell your eyelashes and how much you will sell them for.
How Much Can You Make Selling Eyelashes?
It is not out of the question that you can make a nice income with your lash business.
For example, let's say your eyelashes and boxes cost you $5 per pair and then you add another $5 for packaging and shipping supplies.
If you can sell your mink eyelashes for $25 a pair (which is the average sale price), you will be making $15 a pair profit.
If you sell 50 pairs a month, that is a net profit of $750 before taxes.
How To Find An Eyelash Vendor

You will need a vendor or wholesaler in order to buy good quality eyelashes for a great price that will enable you to turn a profit with your eyelash business.
Most wholesalers are based in China and you can easily find one from a site such as AliExpress and Alibaba. You can contact them directly on the marketplaces and then move to Whatsapp to work out the details.
Do a search for the type of eyelashes that you plan on selling and compare quality and prices.
Another place to find a great eyelash vendor is on Instagram.
Use hashtags such as
#minkeyelashvendor
#eyelashvendor
#eyelash
#eyelashvendorwholesale
Ask potential vendors for samples of their products before you make any bulk orders. Quality lashes are important for a successful lash business.
You also want to consider cute boxes for your lashes if your vendor does not provide them.
Remember that you need to be able to mark up the wholesale prices enough that you can resell the lashes and also cover costs such as transaction fees and packaging and shipping.
What Kinds Of Eyelashes Should You Sell?
You can decide to focus on one type of false eyelash to sell or you can sell all different kinds.
Bear in mind that some eyelashes last longer than others so your clients will have less need to return to buy more as often.
You will want to pick eyelashes that you like and also eyelashes that you are familiar with.
You need to become an expert on the lashes that you sell so you can answer all the questions you might get from your customers.
Here are the most popular types of eyelash to sell:
Mink
Real mink lashes are extremely expensive as they come from a mink tails. They give a very natural look and are soft and last for a long time.
A pair of real mink lashes can sell for up to $300.
Faux Mink
Many vendors sell mink lashes that are actually synthetic so make sure you know what you are buying and market them correctly to customers.
Faux Mink lashes are man made, poly-fiber lashes that come in a variety of lengths, diameters and curls. They are meant to look like real mink lashes for a fraction of the cost.
Most of the mink lashes you will likely sell will be faux or synthetic mink.
Silk
Silk lashes can be curled and come in a lot of different lengths. They are not as comfortable as mink lashes but they are more affordable.
Full Lashes
Full falsies are great and the most popular kind of eyelashes in most reseller stores.
Natural/Everyday lashes
Not everyone wants the false eyelash look so one great type of eyelash to sell are natural looking eyelashes.
Do Competitor Research
One of the most important things to research when planning a start-up is your competition.
This includes researching what other businesses are already in this industry and how you can differentiate yourself from them.
The following are some free tools that can be used to research your competition:
Google Alerts – This will let you know when something is posted online about a competitor. You should set up alerts for both the company name and brand names.
Google Search – You should use this to research what keywords are being used by your competitors. This will tell you how many people are searching for your competitors and what keywords you should use in order to get found online.
Etsy – Take some time to research other eyelash businesses and see what their best selling products are.
Keyword Tool – This will tell you how many people are searching for different types of lashes and how much the lashes are selling for.
I use a keyword tool that works for Etsy, Amazon and Google called Sales Samurai.
On Sale Samurai, you can find out the top searched for eyelashes and also how much eyelashes sell for on Etsy.
You can try Sale Samurai for free for 3 days using this special link.
Also, if you decide to sign up for Sale Samurai, use promo code twfhl20 for 20% your subscription for life!
Starting Your Eyelash Business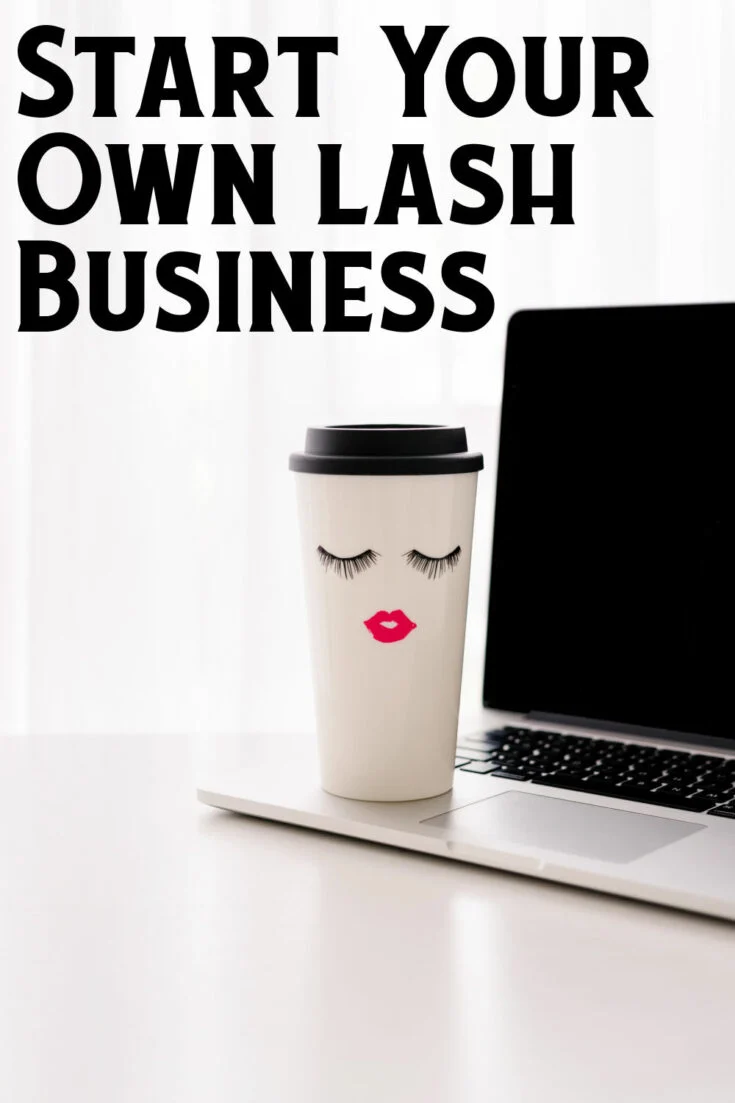 Once you have secured a great vendor, you can work on the fun part of your business – the launch.
Starting your eyelash business will include deciding on a great business name, branding your biz and keeping things legal.
How To Name Your Eyelash Business
You may already have a great name for your business but if you don't, you can spend some time brainstorming.
The name of your business should be descriptive, unique and easy to remember. Make sure that the name fits with your brand and that your customers will be able to remember it easily.
Before you decide on a name, make sure to check that it is available on social media (TikTok, Instagram, Facebook etc).
If you are planning on creating your own online store, you should probably check that the domain is available on a site such as Namecheap.
Etsy is another good place to check for available names before you commit.
Some tips for picking a great name for your lash business:
Use keywords in your business name and on your website (eg. Eyelash, lash, eyes, beauty)
Choose a catchy, attention-grabbing name that reflects the quality of your services.
Here are some fun name ideas you can use for inspiration:
Lashtastic
All Eyes On You
Minkaholic
Oh Lashly!
Pretty Eyes 4 You
Naming Your Lashes
You may also want to choose special names for each kind of eyelashes that you sell in your store. If you are buying from a vendor through AliExpress, they will more than likely be able to custom print your lash names onto the boxes for you for a fee.
You can also skip this step and use your own label maker instead. This will save you a lot of money in the long run and a simple Bluetooth label maker costs less than $50.
Branding Your Business
Once you have a cute name, you should go ahead and choose a color scheme and design a logo.
If you are not super creative, you can get a cheap logo made by someone from Fiverr.
You can also make your own logo on a free program such as Canva but be careful not to use any of their logo templates as they are not allowed to be used commercially.
You can also order business cards and flyers from an office supply store or somewhere like VistaPrint.
Keeping Things Legal
You will likely need to register your business with your city or state and you may want to look into liability insurance too. This will protect you in case someone has issues with the lashes you sell.
Another thing to consider is to open a business banking account to make things easy at tax time.
Remember to keep all of your receipts and invoices as book keeping is an important part of running your eyelash business.
5 Places To Sell Eyelashes Online
Selling eyelashes in person at parties and craft fairs is easy, but referring customers to an online store is a must if you want to be successful.
Luckily there are a lot of different options you can try when it comes to selling your eyelashes online.
Selling Eyelashes on Instagram
Instagram is a great place to sell eyelashes. You can either work via DMs and use PayPal or CashApp/Venmo for transactions.
Here are some tips for gaining followers and growing your eyelash business on Instagram (these tips also work for other social media platforms):
Take high quality videos and use Reels, Stories and other video platforms
Post often
Use relevant hashtags
Host a giveaway to gain followers and engagement
Using Big Cartel To Sell Eyelashes
Another way to sell eyelashes online is using a website such as Big Cartel. It is free for up to 5 products (after that it is 9.99 a month).
Big Cartel is the cheapest way to start selling eyelashes and you can use it in conjunction with social media by adding the link to your Big Cartel of your store in your social bios.
The only downside of selling via Big Cartel is that you would need to market your store yourself, no one is going to find it in the same way as they will find it on Etsy or Amazon.
Selling Eyelashes On Etsy
Etsy might not be the first place you think of when it comes to selling eyelashes online but it can be a great option.
First of all, your potential audience is huge with Etsy and customers may find your eyelash shop through Etsy search without you paying any money for marketing.
The one downside to Etsy is that is it not free. The website charges a $0.20 listing fee for each item and a 5% transaction fee on top of that.
(You can start your Etsy shop via my unique link and get 40 free listings to start you off).
If you haven't started your shop yet, make sure to go through this tutorial on How To Start An Etsy Store Successfully
It will take you step by step through from creating to launching your Etsy shop.
The process of creating a product on Etsy is really simple. As with other platforms, it is really important to have great photos, complete product descriptions and to use keywords so that your listings are found in search.
To make sure you are creating Etsy listings that get your the most sales possible, check out my free printable Starting An Etsy Shop Checklist PDF.
Starting An Amazon Store Selling Eyelashes
Amazon can be a really great place to sell lashes online but the fees can really eat into your profits.
The main advantage of selling your eyelashes on Amazon is that it is the largest online marketplace and will allow you to reach customers that you would otherwise have no chance of finding.
There are two different plans for sellers on Amazon:
With the Individual plan, you'll pay $0.99 every time you sell an item.
The Professional plan costs $39.99 per month, no matter how many items you sell. For both plans, Amazon also collects a referral fee on each sale.
For beauty products the current referral fee is as follows:
8% for products with a total sales price of $10.00 or less, and
·15% for items with a total sales price greater than $10.00
There is a minimum referral fee of 30 cents per sale.
To get started selling on Amazon, you will need the following:
Business email address or Amazon customer account
Internationally chargeable credit card
Government ID (identity verification protects sellers and customers)
Tax information
Phone number
A bank account where Amazon can send you proceeds from your sales
It is really easy to create your listing and to get started selling on Amazon. Head to the Seller page to create your seller account to start!
Selling Eyelashes on Shopify
Although Shopify is not free, it is one of the easiest places to sell eyelashes online because you get a storefront set up plus all the merchant process for selling eyelashes online (checkout etc), is already handled for you.
Shopify creates the shipping labels for you so all you have to do is print them off.
It costs around $29 a month to own a Shopify store but you can try it out for 14 days for free before taking the plunge.
Click here to start your Shopify free trial
It is a great option for starting a lash business online because so much is done for you.
READ MORE: How To Open An Online Store With Shopify
Creating Your Own Eyelash Website
One of the best places to sell eyelashes online is on your own website.
Your website will allow you to build your brand and also get sales without paying a lot of fees from platforms such as Etsy.
You can choose to either sell your eyelashes directly on your website or use your site to advertise your products but direct customers to make a purchase on your Etsy shop.
You can create your own website in just an afternoon and for under $5 using a host such as Bluehost.
Bluehost will give you a free domain name to make it easy to get started.
Make sure when choosing your domain name (that's the www.) that the same name is available on Facebook and Instagram as a username so that you can have a cohesive brand.
How Should You Price Eyelashes?
Depending on the quality of your lashes, the boxes and how customized it is, most lashes sell for between $10 and $25 a pair.
When deciding how to price your eyelashes, you need to do some competitor research and see what other people are selling similar lashes for.
You need to make sure you are turning a profit so here is a basic calculator for pricing eyelashes to sell online:
Wholesale cost + Supplies/shipping + merchant transaction fees + your profit mark up
Your mark up should be at least 15% but obviously the higher the better.
Your mark up potential will depend on how much you can sell the eyelashes for and how low you can get your costs on wholesale lashes and supplies.
Shipping And Packaging Your Eyelashes
One thing to consider when learning how to sell eyelashes online is the shipping and handling costs and materials.
People hate paying for shipping so the lower you can go with those costs, the better.
You can buy mailers in bulk from Amazon that match your brand colors which will really make your eyelash business look professional without costing a lot.
Remember that mailers just get thrown in the garbage after they are opened so don't spend too much on pretty ones.
You will also need the following supplies for shipping your eyelashes to customers:
A Postal Scale to weigh the packages
A Printer for printing off the shipping labels
Business cards and/or Thank you cards to include in packages
Remember to include your shipping expenses either in your sale price or as an add on for customers so that you don't lose money on every sale.
How To Promote Your Lash Business
Once you are all set up to sell lashes online, the real work begins.
You will need to promote your shop on social media, in person to friends and also work on getting your site seen on Google using Search Engine Optimization.
Make sure to post regularly on all your social media accounts and to let everyone you know in on your lash business.
Offer promotions and discounts for referrals as well as sales.
How To Sell Eyelashes Online – FAQs
Is It Hard To Start An Eyelash Business?
Eyelashes are in a very competitive market but it is very easy and cheap to start your own eyelash business for less than $100.
Whether you decide to use Shopify, Etsy, Amazon or all of the above, with a little bit of hard work and research, there is no reason you can have a profitable eyelash business within a few months.
How Can I Start An Eyelash Business With No Money?
Although you can start an eyelash business for really cheap, you will need to make at least an initial investment of your eyelash inventory. Without eyelashes to sell, there is no business.
That being said, you can start off really small and then build up your supplies as your business grows.
You can also use free platforms such as Big Cartel and Instagram to save money on selling platforms.
What Other Lash Products Can You Sell?
If you want to grow your lash business you can expand into other beauty products such as:
Lash Serum
Mascara
Lash Primer
Brow Templates and Products
Another really fun idea is to turn your lash business into a subscription model.
Your customers would sign up to receive x number of lashes per month.
That way you could set a premium price and save on shipping costs as you would be mailing the lashes out in bulk. This is also a really great way to create a guaranteed monthly income.
Is Selling Eyelashes Profitable?
Eyelashes can be a very profitable business if you sell quality products and find a good vendor that sells you the lashes wholesale for a great price.
Is Starting An Eyelash Business Worth It?
If you love beauty products and know all about lashes then starting a lash business is totally worth it.
The most successful eyelash sellers are passionate about the products themselves and know how to help customers find their perfect eyelashes for any occasion.
I hope this guide to how to sell eyelashes online has helped you to get started with your dream business! Good luck
More Home Business Ideas
How To Start A Dog Treat Business {in 6 Easy Steps)
How to Become A Freelance Writer With No Experience (5 simple steps)
How To Make Money Selling Stickers On Etsy