Do you have a green thumb with a knack for making things pretty? If so, you may be wondering how to make money selling plants on Etsy. It's actually easier than you might think!
Starting your own online business selling plants on Etsy can be a great side hustle that can turn into a full-time job.
More and more people are interested in house plants and gardening and now is a great time to turn your hobby into a small business.
In this post we will walk you the process of turning your love of plants into a legit way to make money:
What kinds of plants to sell on Etsy
How to start your Etsy store
How to price plants on Etsy
This post contains affiliate links. Please read my Disclosure for more information
MORE THINGS TO SELL ON ETSY
Selling Crystals On Etsy: The Ultimate Guide
How To Start An Invitation Business On Etsy
Selling Plants On Etsy- The Ultimate Guide
Why Sell Plants On Etsy?
Etsy is a website where people can buy and sell handmade or vintage items. It is a great place to sell plants because there are millions of people who visit the site each month.
Although it is true that when you think of Etsy, plants might not come to mind, that doesn't mean you can't make money selling plants there!
According to the latest stats, in 2020 there were over 39 million active buyers on Etsy and many of them are looking for plants and flowers to buy!
Can You Sell Plants On Etsy?
You absolutely can sell plants on Etsy, with some restrictions.
First of all, certain types of plants are not allowed on Etsy.
Herbal Drugs
Controlled substances, plants or plant parts from which hallucinogenic substances are made and hallucinogenic mushrooms are all banned.
Hazardous Plant Materials
Toxic or poisonous plants such as deadly nightshade or pong pong seeds are also banned from Etsy.
There is a complete list of all banned plants that you can access here.
The Best Plants To Sell On Etsy
Now we have looked at what you cannot sell on Etsy, let's see what you should sell to get the most sales.
First, decide what type of plants you want to sell. You can focus on succulents, flowers, or herbs, for example.
Do you want to sell indoor plants, small plants or cuttings?
However, there is no point in selling plants that no one wants to buy.
The best way to decide what plants to sell is to find out what sells and also consider what you are actually good at growing.
That's why market research is really important. It can help you see what kinds of plants people are searching for plus the best selling plants on Etsy.
Here is how to do this research yourself:
Check out Etsy
First of all, spend some time on Etsy and search for the kinds of plants and flowers that you grow.
If you would like to sell plants on Etsy, I would suggest looking critically at the other shops who will be your competition.
Look at the listings on the top of the search results (below the sponsored ads) and take some time to look at the shops that have the most reviews.
What kinds of plants are they selling?
How much are they selling them for?
How many products do they have in their shop?
Use An Etsy Keyword Tool
Once you have got familiar with Etsy shops selling plants, you can consult an Etsy keyword tool that will give you all kinds of data about the things Etsy buyers are looking for.
There are quite a few keyword tools out there, my personal favorite is Sale Samurai. You can get a free 3 day trial to check it out.
If you want to see how to use this tool to find the best selling plants on Etsy read my Sales Samurai tutorial and watch my video here.
You can perform a search on Sales Samurai that will show you the most searched for plants on Etsy plus information such as the average price point and the keywords that you should be using in your Etsy listings.
Here is the first page of my results when I search for the keyword "plants":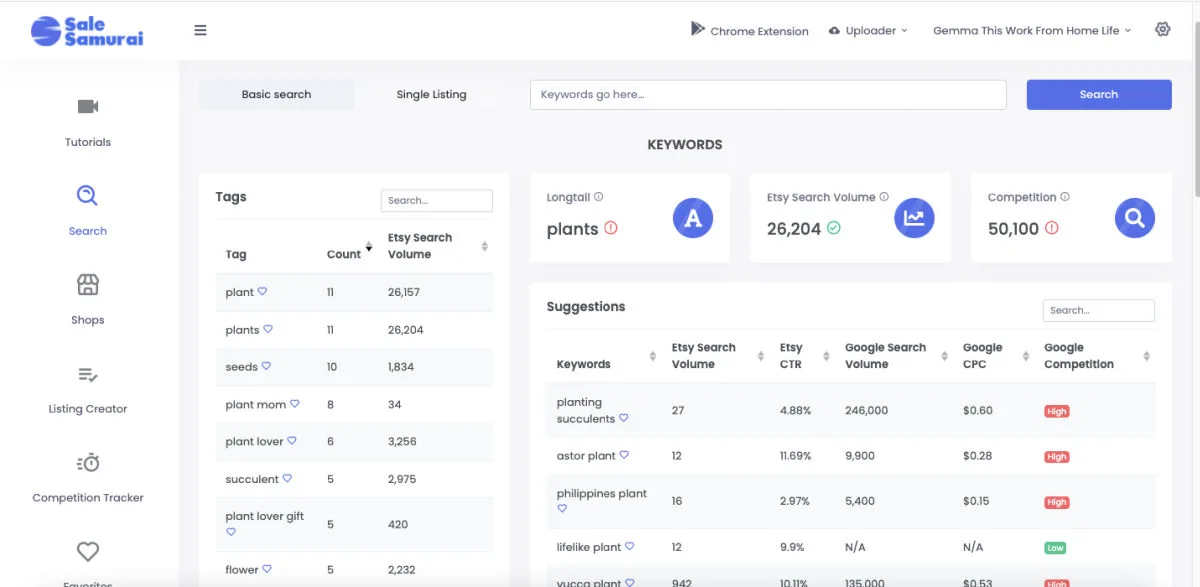 Using both a keyword tool and your own research on Etsy should help you find some great ideas for your Etsy business.
I've written an in depth post about How To Make Money Growing Plants that tells you the best types of plants to grow for a profit.
You can also read my post on selling seeds on Etsy if that interests you.
The Best Selling Plants On Etsy
To make things easy, here is a list of the current best selling plants on Etsy according to Sale Samurai:
Snake Plant
Jade
Variegated plants
Osmanthus
Orchids
Clemanis
Wisteria
Fushia
Daphne
Azalea
All kinds of things sell on Etsy from succulent arrangements to tropical plants.
If you already grow your own plants, then you might know what you want to sell but doing market research can really help.
Should You Only Sell One Type Of Plant In Your Etsy Shop?
Most Etsy experts will recommend niching down your Etsy shop to a certain extent.
If you try to sell too many different products, it will be harder to build a brand but when it comes to plants, offering a wide variety is not necessarily a bad thing.
The most important thing is to sell plants that people want to buy year round and not just at a certain time of year.
The key to success is to make sure to sell some evergreen products as well as seasonal favorites.
Bear in mind that selling seeds on Etsy is another way you can expand your business.
How To Start Selling Plants On Etsy
It is easy and free to open your new Etsy shop and you can be up and running with an online store in just a few minutes.
If you don't already have an Etsy account, you will need one before you can start your Etsy shop.
Go to Etsy and click on "Create Shop".
Use this special invitation from me to get 40 free listings to start you off.
Fill out the basic information about your shop and you will be almost ready to create your first listing!
If you can't decide what to call your Etsy shop, I have a guide to picking the perfect Etsy shop name here.
You can add a logo and a shop banner for your store.
To walk you through the whole Etsy set-up, I recommend you download my free Starting An Etsy Shop Checklist PDF.
Listing Your Plants For Sale
Head to your Etsy shop and click on "listings". You can now start to add your plants to your Etsy shop.
Ideally, you would have at least 10 plants to list in your store before you launch. It makes sense that the more items in your shop, the more chances you have for a sale.
In addition, it will make your Etsy shop look more established in the eyes of buyers.
There are 5 different elements to every listing that you need to focus on:
Title
Photos
Category
Description
Tags
Perfecting Your Etsy Title
You can use the Etsy title to describe exactly what your plant is and any details you can think of. Make sure to fill the title space up as much as possible with keywords that potential buyers may search for.
Don't waste any space in your title, make sure to use as many characters as there are available.
Here is a great example of a great Etsy title:

How To Create Amazing Listing Images
The next really important part of your Etsy listing are your photos. After all, people want to know what exactly they are buying, especially when it comes to plants.
You can add up to 10 photos per listing and I recommend adding at least 5 if possible but the more the merrier.
Consider including the following photos of each plant that you list:
Close up of the leaves
Pictures of the plant with different backgrounds
Close up of the pot and soil
How To Write An Awesome Etsy Description
Your description needs to include as much information about your plant as possible.
Include all the information about:
What the plant is and if it has any special qualities
Size (in inches)
Care instructions
Under materials, you can add the following information that applies: natural, nature, leaves, leaf, growing, succulent, garden, plants, plant, organic, planting, plant cuttings etc
If you want some tips on writing great description, you can download my free Etsy SEO Checklist.
This will help you boost your rankings on Etsy and on search engines.
How To Choose Etsy Tags For Your Plants
You can use up to 13 tags for your listing, the more you use, the more chance of someone finding your particular plant in search.
If you have a hard time coming up with tags, you can use Sales Samurai to give you ideas.
Just do a search for the keyword of your item and it will come up with the commonly used tags:
How To Price Your Plants On Etsy
This is the part that many people get stuck on but in fact it is really easy.
First, look up your competition and see what they charge. Price your plants competitively with other sellers in your area.
Remember that most people hate paying for shipping so if you can offer free shipping/delivery while still making a profit, then this is a great option.
To decide on a price, consider the following:
The cost of your materials
Shipping and packaging prices
Your Etsy fees
Your profit margin (ideally at least 25%)
You need to cover all your costs (materials, fees, shipping) and make a profit.
The average price of a plant on Etsy is $13 with some fetching almost $100 so it is important to do the research to see what you can sell to make the most profit.
How Much Are Etsy Fees?
An important piece of the Etsy puzzle is the fees that you will be charged for listings and sales.
Etsy has increased their fees effective from 11th April 2022 so I am giving you the most up to date prices here:
Listing Fees
You will be charged a listing fee of $0.20 USD for each item that you list for sale on Etsy.com or Etsy's mobile apps.
(Don't forget to take advantage of the 40 free listings when you open your shop to save some cash).
Transaction Fees
Every time you make a sale through Etsy, you will be charged a transaction fee of 6.5% of the price you display for each listing plus the amount you charge for delivery.
Etsy will automatically deduct all fees owed from your payment account so you do not need to pay them separately.
Shipping And Packaging Your Plants
First of all, let's look at the facts. You probably know from going through customs at airports that you can't move plants and seeds across borders indiscriminately.
According to Etsy's guidelines: "Both buyers and sellers must follow any applicable laws or delivery restrictions around plants, plant materials and seeds.".
Because laws vary from place to place, it is a good idea to consult your individual state or country for guidelines and to consider avoiding international shipping if you can to avoid customs issues.
In some cases, you can only ship certain plants while in others there are specific shipping instructions.
Here are some links to help you:
USDA – (US Department of Agriculture) for shipping plants and seeds within and to the USA
Make sure to also check with the shipper that you use to avoid any issues with them too.
All packages of plants, plant materials or seed products sold on Etsy must prominently display the following information on the outside of the package:
Name and address of the seller or shop
Name and address of the recipient
The country (including state/province, where applicable) from which the plant, plant material, or seeds originate
The contents of the package
You'll also want to make sure your plants are packaged well and in boxes that allow them to breath and stay looking good when they arrive at their destination.
Most sellers on Etsy wrap every plant in bubble wrap and newsprint with crinkle paper tucked between every leaf to protect them.
Returns and Refunds for your Etsy Shop
One of the biggest problems that plant sellers on Etsy have is that people make complaints about the condition of plants that they receive.
Of course, it is important to have positive reviews from customers in order to stay in good standing on Etsy so to prevent issues.
Here are some tips for making sure the customer service aspect of your business goes smoothly.
It is inevitable that plants get damaged during shipping and it is important to be prepared to deal with complaints and requests for refunds.
You may want to include a note to buyers that leaves can sometimes die from the shock of shipping. The roots are usually probably fine and will regrow soon but it can be something that people complain about.
Put a disclaimer at the bottom of your Etsy description saying that customers must contact you within 48 hours for any issues and you will work with them to resolve their issue.
If someone contacts you after 48 hours with a complaint, you can direct then to your disclosure and say sorry.
Add a note making it clear that you are not responsible for damage done by carrier.
Make customers submit photos of both the boxes and plants in cases of problems.
Lastly check your tracking to make sure the customer got the plant promptly and didn't leave it at a shipping facility before collecting it.
Tips For Promoting Your Etsy Shop
Once your plants are listed for sale on Etsy, it's time to start promoting them!
Although you might get lucky and get some sales organically through Etsy search, if you promote your shop, your sales will grow much quicker.
You can use paid Etsy ads to grow your brand on Etsy and also promote externally too:
Use Social Media To Promote Your Etsy Plant Shop
Etsy gives you easy ways to connect your Facebook and Twitter to your shop so you can keep your fans in the loop about new products.
Use any and all of the following social media outlets: Twitter, Facebook, Instagram, Pinterest, YouTube, Snapchat and TikTok.
Make a point of adding photos of all your listings to social media and try and build a following.
Pinterest is possible one of the best places to promote your Etsy shop. It is completely free to get started and be a huge factor in driving sales to your business.
You can add pins that direct to your Etsy shop or you can pin directly from Etsy to your Pinterest account.
To learn how to get started on Pinterest, you can read my in depth how to guide on how to use Pinterest for Etsy.
Other Places To Promote Your Etsy Shop
Starting a blog about plants is a great way to promote your Etsy business while building your brand.
In your blog you can write articles about how to make different kinds of plants and then link to your shop so that can people can buy them.
It's really easy to start your own blog and it is super cheap. You can get my step by step tutorial here.
YouTube
Start a YouTube channel where you show people how to grow the plants you sell.
You can monetize your channel with ads and also direct people to your Etsy shop to buy cuttings from you.
Selling Plants On Etsy – FAQs
Can You Make Money Selling Plants On Etsy?
There is definitely a great opportunity to make money selling plants on Etsy. Reddit is full of people who sell lots of plants on the site and make a nice side income or even do it as a full-time gig.
Obviously how much money you make will depend on how many plants you sell and what they sell for.
Do you need a license to sell plants from home?
In most cases, small businesses do not need a license when selling live plants on Etsy but it is important to check your local laws to make sure.
Here are the rules in certain countries (check that they are up to date before starting your shop):
Canada -You don't need a permit and you no longer need to provide written notice (with details about the plant and where you're producing/growing it) to the Ministry of Natural Resources.
USA –You may need a state license to sell plants depending on where you live.
Are there any other places to sell your plants?
If you want to grow beyond an Etsy business, consider the following options:
Get all the details on selling plants in these places and more in my post on How To Make Money Growing Plants
More Things To Sell On Etsy
Start Your Own Etsy Printables Business – this involves no shipping at all!
Make Money Selling Stickers On Etsy – another really popular Etsy best seller
How To Start An Invitation Business On Etsy – this is one of the most popular niches on Etsy for buyers.