Are you feeling crafty this year and want to DIY some gifts or sell them at a holiday bazaar? You'll love this list of wooden Christmas crafts to make and sell.
This blog post includes a list of 20 DIY Christmas wood crafts to make and sell.
If you are looking for DIY Christmas gifts to make and sell, you'll love the unique ideas on this list.
Most of these projects require only a few supplies and they are easy enough to put together in an afternoon or evening.
Whether you want something cute like a Christmas tree ornament or something practical like a coaster set, there's bound to be something here that will work for you!
I've included links to detailed tutorials and pictures for inspiration for every one of the Christmas wood projects on this list so you can get started today.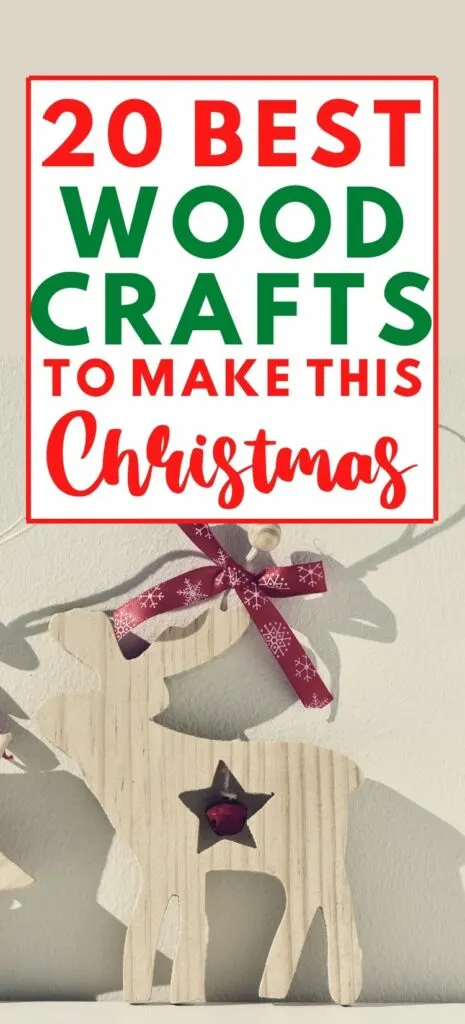 This post may contain affiliate links. Please read my disclosure for more information
20 Fabulous Christmas Wood Crafts To Make And Sell
North Pole Stocking Holder
DIY Wooden Christmas Tree
Wooden Sign "Joy"
Chalkboard Wood Slice Sign
Wooden Skate Door Hanger
Christmas Card Holder
Wooden Snowman
Wood Slice Tree Ornament
Merry Christmas Blocks
Christmas Tree Shelf
Christmas Burlap Sign
Tabletop Christmas Trees
Farmhouse Christmas sign
Christmas Pudding Slice Ornament
Be Merry Porch Sign
Christmas Tree Sconce
Pallet Centrepiece
String Art Stocking Holders
Branch Round Advent Calendar
Extra Large Scrabble Pieces Sign
The Best Wooden Christmas Crafts To Make And Sell
Scroll down to find the item you want to make. I've included a bit of everything in this post.
Whether you are looking for Christmas wood crafts to outdoors or wooden Christmas decorations to make at home and then sell on for a profit, this list has it all!
These are great for selling online for giving as gifts if you want to have a great Christmas without spending a lot of money on expensive presents.
Simply click through each click to get the details and instructions for each Christmas wood project idea.
RELATED POSTS
North Pole Stocking Holder
I am in love with this super cute North Pole stocking hanger from Jen Woodhouse. You can find all the details on how to make it for yourself at her website.
DIY Wooden Christmas Tree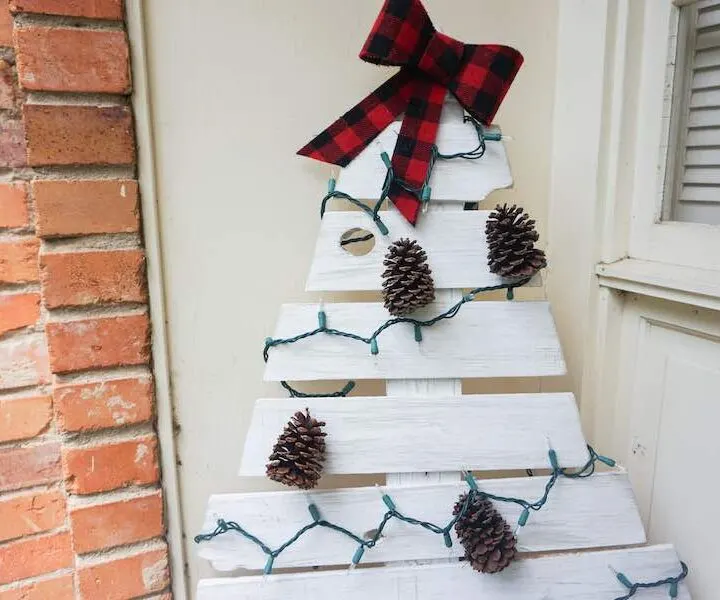 This easy to make wooden Christmas tree can be decorated in so many different ways!
It makes a really fun DIY Christmas wood project idea that the whole family can do together and its also a great craft to make and sell.
Wood Joy Sign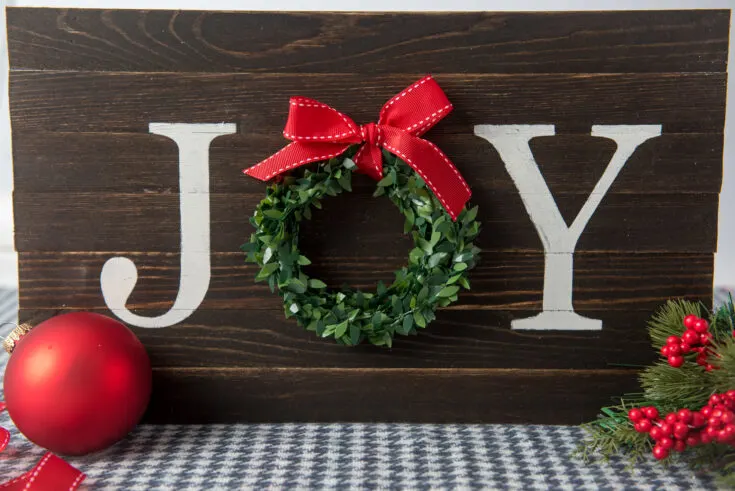 One of the best wooden Christmas crafts to make and sell has to be wooden signs.
Everyone loves them and they have been hot for years now with no sign of the trend abating.
I love this DIY Wooden sign that reads "Joy".
It's so cute and would make a fantastic Christmas craft to sell at a bazaar.
Chalkboard Wood Slice Sign

The easy to follow tutorial for these cute Christmas signs come with a free printable template that you can use.
The sign in the picture is painted with chalkboard paint but you could also use white or colored paint for your sign.
Wooden Skate Door Hanger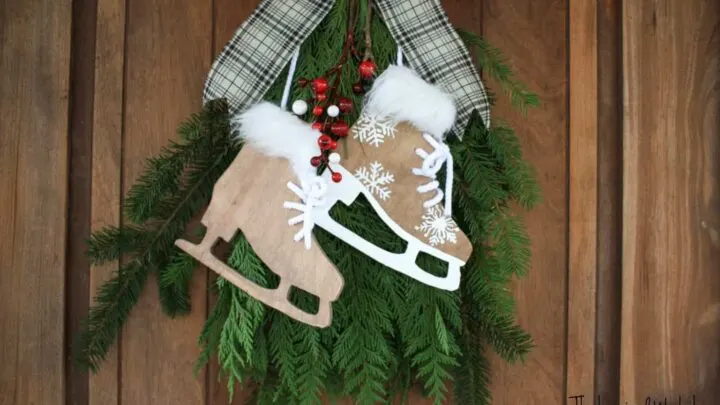 This really cute door hanger from The Inspired Woodshop is one of my favorite Christmas crafts to make and sell this year!
Both my daughters are figure skaters and I know they would love these skates hanging on their doors too!
The tutorial comes with the template for the skates to make cutting easy!
Christmas Card Holder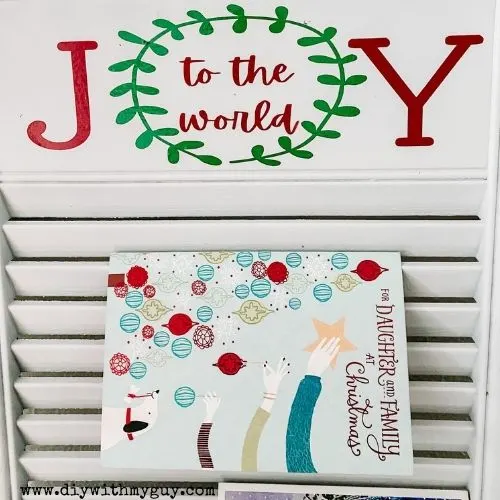 I love this repurposed wooden shutter that has been turned into a really cute Christmas card holder. Grab all the details and instructions here.
Wooden Snowman
How cute is this adorable 4 x 4 wooden snowman?
It is one of my favorite Christmas wood crafts to make and sell because you can whip up a bunch in a weekend.
They are one of those wood crafts that sell really well at flea markets and bazaars.
DIY Wooden Advent Calendar
A wooden advent calendar like this one makes a fantastic wood craft to sell.
It would be a gorgeous keepsake gift for someone to pass along to family members for years to come.
Get the tutorial for the advent calendar here.
Wooden Slice Ornament
Wood ornaments are all the rage right now and they are surprisingly easy to make and sell at Christmas!
If you choose just one of the wooden Christmas crafts to make and sell on this list, wood slice ornaments should be it.
Get all the info on how to make these cute ornaments at DollarCrafter.
Merry Christmas Blocks
You can make these cute Merry Christmas blocks with two different messages to make them reversible!
They are pretty easy to make and you can branch out and make Thanksgiving versions too (the tutorial is at the link).
Christmas Tree Shelf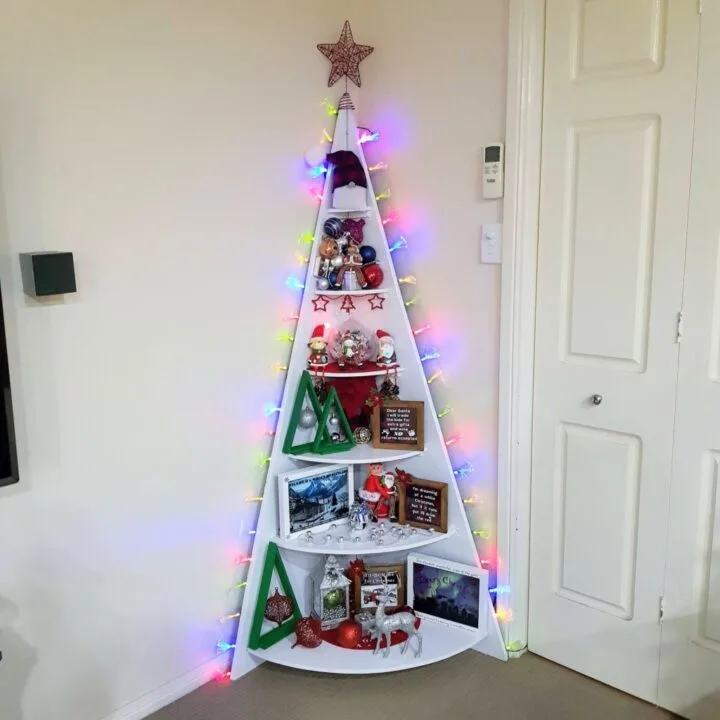 I love this ingenious Christmas tree shelf from Unique Creations By Anita.
It is so cute and would make fantastic alternative to a traditional tree for a small apartment or dorm.
Christmas Burlap Sign
There are always lots of wooden signs around at Christmas craft sales but this burlap version is a bit different and fun.
You can get all the information on how to make it at Leap Of Faith Crafting.
Wooden Table Tree
If you are looking for Christmas wood crafts to make and sell without too much hassle, check out the tutorial for these cute table top Christmas trees from Charleston Crafted.
Farmhouse Christmas Sign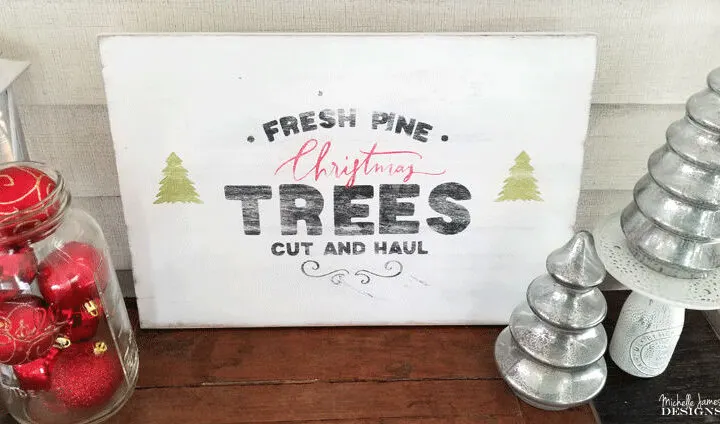 If you love farmhouse decor, you will love this cute Christmas tree sign from Michelle J Designs.
And if you want to make more farmhouse decor out of wood, make sure to check my list of 12 Farmhouse Wood Projects To Make And Sell.
Wood Pallet Christmas Trees
If you love Simple Wood Pallet Projects To Make And Sell as much as me, then you will adore the tutorial for these fun pallet Christmas tree decor.
Christmas Pudding Slice Ornament
I know, I know, I already have some Christmas wood slice ornaments on this list but how cute and unique are these ones?
Plus you can make them in about 5 minutes with this tutorial from Pillar Box Blue.
Be Merry Porch Sign
A classic but always one of the best Christmas crafts to make and sell, this farmhouse "Be Merry" style sign will brighten up any porch.
For more inspiration, make sure to check out these great front porch Christmas decorating ideas.
Wooden Christmas Tree Sconce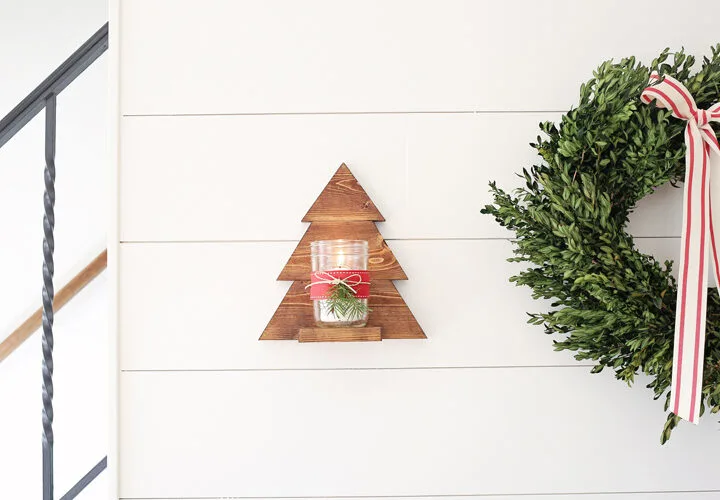 I love these pretty wooden sconces from Angela Marie Made.
They are one of the hottest selling wooden crafts at Christmas bazaars and holiday markets.
DIY Pallet Centrepiece
Wood pallet crafts are always fun and I really love this holiday centrepiece that you adapt for every season.
String Art Stocking Holders
Here is another really cute idea for stocking holders.
You can get the tutorial for these ones over at The Turquoise Home.
Brand End Advent Calendar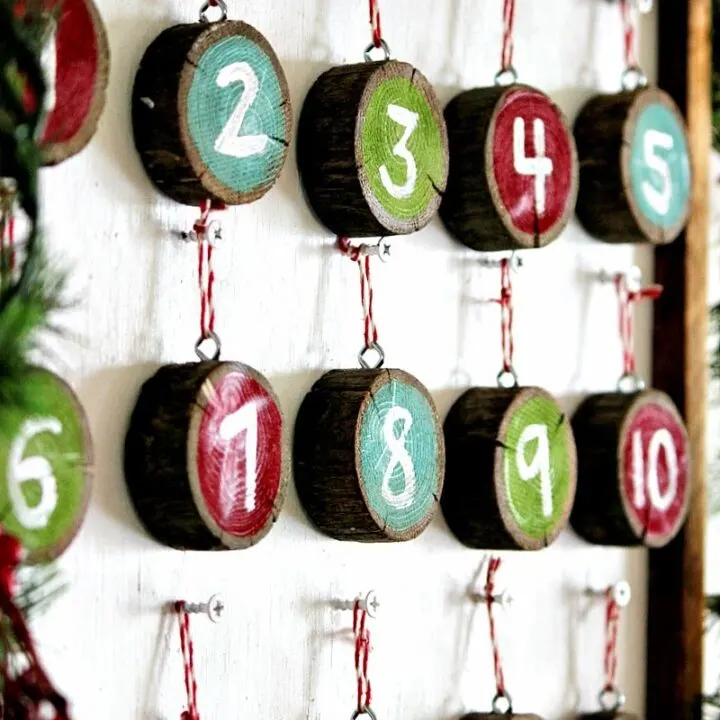 This super cute advent calendar from Beyond The Picket Fence is easy to make with the ends of branches
Large Scrabble Sign
These massive scrabble pieces are so unique and are sure to be one of the hottest Christmas wood crafts to make and sell this year.
You can get all the information on how to make them at H2o Bungalow.
Wooden Christmas Crafts To Make And Sell
If you love these Christmas crafts and want to start a business crafting and selling your creations, have you considered starting an Etsy store?
Homemade wooden crafts do really well on Etsy and you can get started for free.
Use this link to open your Etsy store and you will get 40 free listings so you can start selling on Etsy this week!
Other Places To Sell Your Christmas Wood Crafts
Around the holidays, everyone is looking for that one unique gift idea for someone who has everything.
Solve their problem by selling your Christmas wood projects and start your own side hustle.
I've already mentioned Etsy but here are a few other places you can sell your crafts this holiday season:
Facebook Marketplace
Local Craft Fairs
Instagram
Your own website (create one in under an hour and for less than $5 with my step by step tutorial)
Facebook Mom Groups. – Not a mom? Ask someone you know to post for you
Neighbourhood sites such as NextDoor
What Are Your Favorite Wooden Christmas Crafts To Make And Sell?
Making Christmas wood crafts is a great way to save money on your holiday gift shopping and maybe make some extra cash on the side.
If you love woodworking, why not make your hobby a year round money maker with my other tutorials for wood crafts to make and sell?
38 Woodworking Projects That Sell
25 Fun Wood Lathe Projects That Sell Well
12 Farmhouse Wood Projects To Make And Sell