Who doesn't love visiting a flea market and finding a treasure or two? With this list of the best crafts to sell at flea markets, you can go one better and have your own flea market business!
We'll show you what flea market regulars are looking for and the kinds of crafts that sell really well at flea markets across the country.
Ready to get stuck in?
Grab your glue gun, sharpen those scissors, and let's get crafty!
This post may contain affiliate links. Please read my Disclosure for more information.
MORE FUN CRAFTS TO MAKE AND SELL
How to Start a Smocked Clothing Business
What crafts sell at flea markets?
You might think of flea markets as more of a spot for selling vintage or used items but in fact the potential for selling handmade crafts at flea markets is growing exponentially.
In this post we will show you the best stuff to sell at flea markets if you are feeling crafty.
Here are the top crafts to sell at flea markets right now:
Handmade Jewelry
Wood Signs and other wood projects
Resin trays and bookmarks
Handmade Soap
Tie-dye Items
Handmade Pottery
Upcycled Projects
Natural Candles
Handsewn Toys
Bath Bombs
Holiday Ornaments
Artwork
Fashion Accessories
13 Crafts That Sell Well at Flea Markets
Below are the best things to sell at flea markets right now.
Whether you are super crafty and can whip up cute wooden projects or you are just a novice and want to start making bath bombs to sell, there are so many easy flea market crafts to make and sell.
Let's dig in!
Handmade Jewelry: Shine Bright Like a DIY Diamond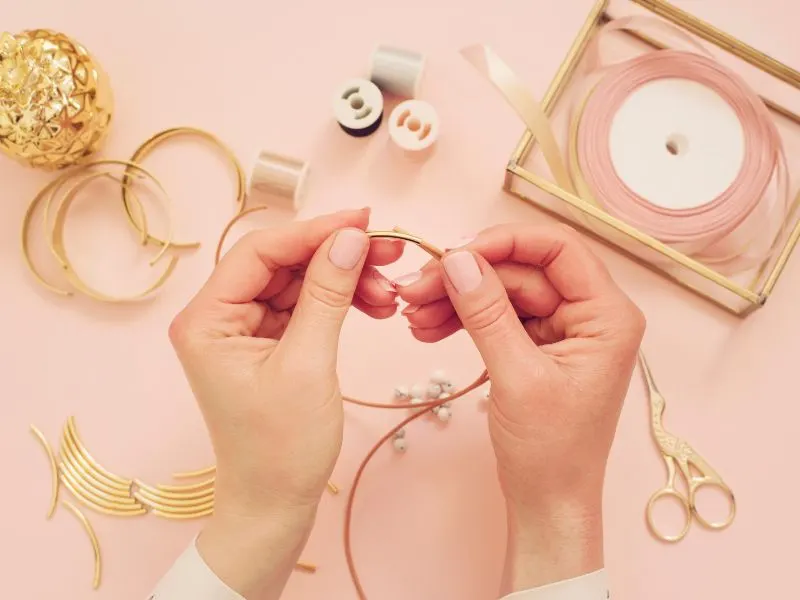 Making and selling jewelry successfully is like creating tiny pieces of wearable art.
From delicate necklaces and stunning bracelets to funky earrings and boho-chic anklets, the possibilities are endless.
You can experiment with different materials like beads, gemstones, wire, and even repurposed items for a unique touch.
With some creativity and a sprinkle of sparkle, you'll have people lining up at your booth to adorn themselves with your dazzling creations.
Creating jewelry is not only fun but also offers excellent profit margins.
Bear in mind that you can also sell sell jewelry on Etsy and other platforms such as Instagram.
With minimal material costs and a touch of craftsmanship, you can turn a handful of beads into a pocketful of cash.
Plus, jewelry is a popular item at flea markets, making it a must-have for any aspiring crafter.
Tips:
Stay on top of the latest trends and incorporate them into your designs.
Offer customization options, like personalized initials or birthstone additions. Keep a stash of business cards so people can make orders after the fact.
Display your creations creatively and attractively. Invest in jewelry stands, busts, or eye-catching displays that highlight your pieces.
Woodworking Projects
There are so many wood crafts that sell well at flea markets.
If you have a passion for woodworking, you can turn it into a fun, money-making business.
From charming wooden signs to functional home decor like shelves and tables with live edges, wooden projects are so hot.
You can make items out of old wooden pallets or harness trends with cute farmhouse wood projects too.
Tips:
Use high-quality and sustainably sourced wood for your projects.
Experiment with different finishes, such as staining, painting, or leaving the wood in its natural state.
Personalize your wooden creations by offering custom laser engraving or carving, allowing customers to add their names, quotes, or special messages.
Trendy Resin Crafts
You can use things such as delicate flowers and shimmering glitter in your rein crafts to create unique pieces that are really demand.
There are so many best-selling resin crafts from stunning jewelry pieces like pendants, earrings, or bracelets to create captivating home decor such as coasters, paperweights, or cutting boards.
The versatility of resin crafting opens up endless possibilities for creating truly one-of-a-kind treasures.
Tips:
Incorporate unique elements like dried botanicals, seashells, or even small trinkets to add an extra touch of personalization and charm to your resin creations.
Simple resin projects such as magnets or bookmarks are easy to make in bulk and sell really well.
Luxurious Handmade Soap
Take advantage of the trend for everything natural by making and selling handmade soap in your flea market booth.
Working with natural ingredients and nourishing essential oils, this is a sweet smelling craft that sells well at flea markets.
It's also one of the top selling things to sell at farmer's markets too!
Let your creativity flow as you experiment with different scents, colors, and textures to craft soaps that offer a sensory experience like no other.
Tips:
Use high-quality ingredients like natural oils, essential oils, and botanical extracts to create soaps that nourish and pamper the skin.
Experiment with different shapes, patterns, and packaging to make your handmade soaps visually appealing and gift-worthy.
Vibrant Tie-Dye
Tie-dye is back and is selling like hotcakes at flea markets and craft fairs everywhere.
If you have a love for vibrant colors and a knack for creating eye-catching designs, then tie-dye clothing is a craft that will make your flea market booth stand out from the rest.
Tie-dye has made a major comeback in recent years, and its popularity shows no signs of slowing down.
Unleash your creativity as you experiment with different dyeing techniques, patterns, and color combinations.
From bold and psychedelic swirls to more subtle and pastel hues, the possibilities are endless.
You can revamp plain t-shirts, dresses, socks, or even accessories like bandanas and tote bags.
Tips:
Offer a range of sizes and styles to cater to different preferences and body types.
Consider selling small items such as coin purses and doll clothes too.
Hand-Painted Pottery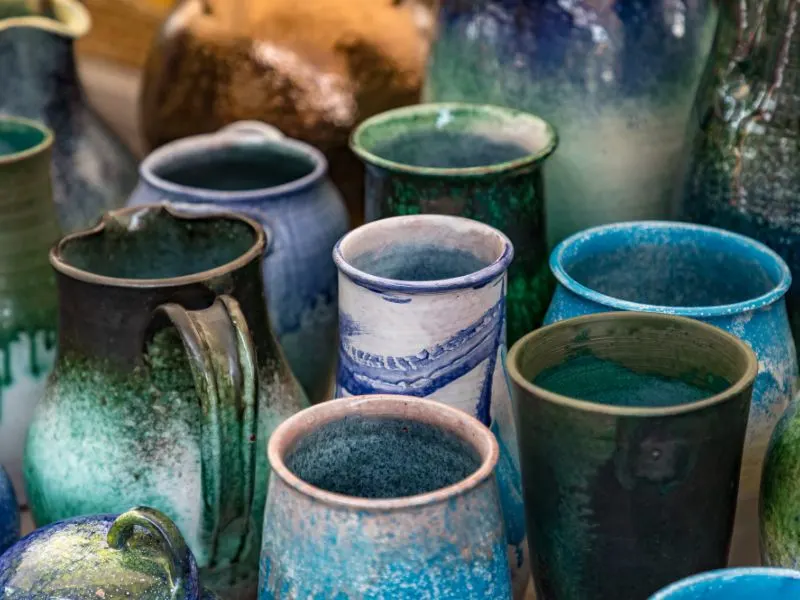 If you have a knack for painting and a love for all things pottery, then hand-painted ceramics might just be your ticket to flea market success.
From cute planters and whimsical mugs to decorative plates and charming figurines, there's a wide range of pottery items that can become your creative canvas.
Tap into your artistic side and let your imagination flow as you transform plain ceramics into stunning, one-of-a-kind pieces.
Why is hand-painted pottery a fantastic craft to sell at flea markets, you ask?
Well, for starters, it offers a unique and personal touch that mass-produced items simply can't replicate.
Shoppers are often on the lookout for items that add character and individuality to their homes, making hand-painted pottery an irresistible choice.
It also makes a fantastic, thoughtful gift for teachers or hostesses around the holidays.
Plus, it's a versatile craft that appeals to various tastes and can cater to both functional and decorative needs.
Tips:
Invest in quality ceramic pieces that serve as a sturdy foundation for your artwork. Look for plain mugs, bowls, vases, or even garden planters.
Experiment with different painting techniques like brush strokes, sponging, or even decoupage for added texture and visual interest.
Consider offering custom orders where customers can request specific designs or personalized messages.
Upcycled Home Décor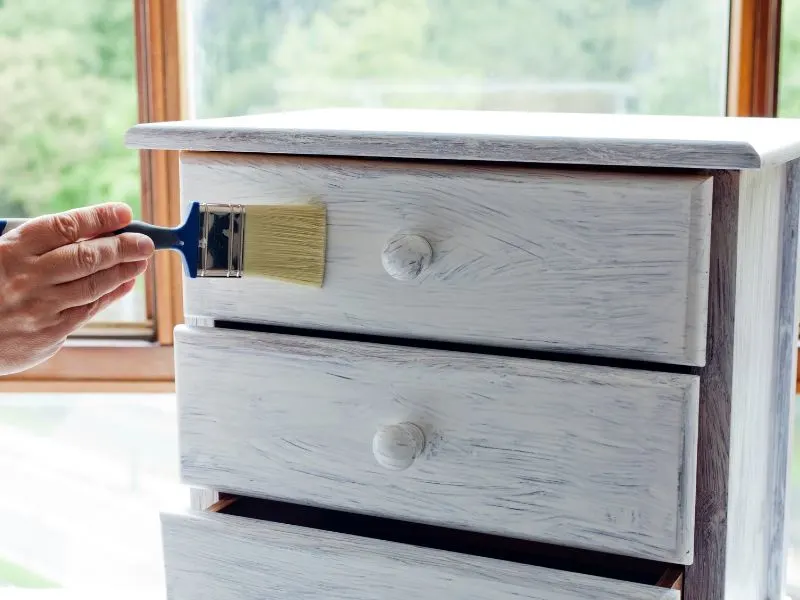 Flea market flipping is THE hot thing right now.
If you have a passion for breathing new life into old items, then upcycled home décor might be perfect for you.
Upcycling is all about taking discarded or forgotten items and turning them into stunning pieces that add character and charm to any space.
Old furniture, vintage frames, or discarded household items can all be turned into unique treasures that sell well at flea markets.
With a fresh coat of paint, some creative embellishments, or clever repurposing techniques, you can transform these forgotten gems into focal points that catch the eye of shoppers.
Upcycled home décor not only offers a sustainable and eco-friendly approach to decorating but also provides a touch of nostalgia and uniqueness.
Tips:
Scout for hidden gems at thrift stores, garage sales, or even in your own attic.
Incorporate sustainable materials and eco-friendly practices into your crafting process. Recycled crafts are always popular.
FREE TRAINING FOR SUCCESS SELLING AT FLEA MARKETS
If you want to get started as a flea market flipper – make sure to attend this FREE workshop.
Just sign up and you can pick the time to attend that suits you.
In the webinar, you will learn:
5 signs flipping/reselling items could be a perfect fit for you.
3 insider secrets that will help you grow your flipping profits.
The best places to find items to flip
Why flea market flipping is a recession-proof business
How flipping can set someone free from 9 to 5 job responsibilities and still provide financial security

Handcrafted Candles
Making and selling candles allows you to explore a wide range of scents, colors, and designs, making it a truly versatile craft.
You can experiment with various wax types, such as soy or beeswax, and infuse them with delightful fragrances like lavender, vanilla, or exotic blends.
Additionally, you can get creative with molds, embed unique items like dried flowers or seashells, or even carve intricate patterns into the wax.
The appeal of handcrafted candles lies in the desire for less chemicals and more natural products in our homes.
Shoppers often seek out candles to add a touch of serenity and relaxation to their homes, making them a popular item at flea markets.
Plus, they make great gifts for any occasion, which means a wider customer base and increased sales potential.
Tips:
Invest in high-quality candle-making supplies, including natural waxes, fragrances, and wicks.
Experiment with different container options like mason jars, vintage teacups, or unique vessels that catch the eye and align with your brand aesthetic.
Consider creating seasonal candles as these are always really popular (think pumpkin spice or gingerbread).
Handmade Toys
If you have a knack for sewing and a love for all things adorable, then hand-sewn plush toys are an irresistible craft to consider for your flea market business.
With a needle, thread, and some colorful fabric, you can bring to life a menagerie of lovable creatures.
From whimsical animals and charming monsters to cute characters inspired by popular culture, the possibilities are endless.
Not a sewer? Handknitted toys are really popular too!
Let your imagination run wild as you design unique patterns and add playful details like button eyes, embroidered features, or even removable accessories.
While there are so many fun sewing crafts to make and sell, hand-sewn toys are one of the best crafts to sell at flea markets.
They make wonderful gifts for little ones, cherished collectibles for enthusiasts, and even comforting companions for those young at heart.
Tips:
Pay attention to fabric selection, choosing soft and cuddly materials that are both durable and safe for children.
Develop a signature style or character that sets your plush toys apart from others.
Consider offering customization options, such as personalizing the toys with embroidered names or special messages.
Homemade Bath Bombs
Selling homemade bath bombs at flea markets is a perfect opportunity to bring a little slice of tranquility to your customers.
They are easy to make at home and so versatile.
You can experiment with different shapes, colors and scents to create a unique flea market business.
Tips:
Use high-quality ingredients such as essential oils, Epsom salts, and natural colorants to create bath bombs that nourish and soothe the skin.
Experiment with different shapes and designs to make your bath bombs visually appealing and gift-worthy.
Festive Christmas Ornaments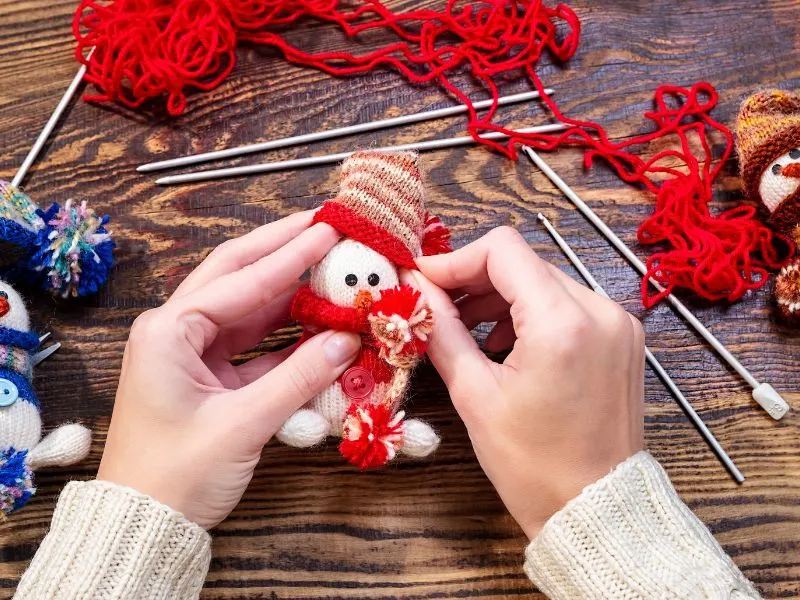 If you have a love for the holiday season and a knack for creating festive treasures, then selling Christmas ornaments at flea markets is a wonderful opportunity to spread joy and ignite the holiday spirit.
From intricately designed baubles and personalized keepsakes to wooden holiday ornaments, there are endless possibilities to showcase your creativity.
Tips:
Offer customization options, such as personalized names or messages, to create one-of-a-kind keepsakes that hold sentimental value.
Create ornament sets or themed collections to cater to different decorating styles and preferences.
Vibrant Hand-Painted Artwork
If you have a talent for painting and a passion for visual expression, then make money as an artist by selling your designs at a flea market.
Flea market shoppers are often on the lookout for pieces that add personality and style to their living spaces, making artwork a sought-after treasure.
You can make all kinds of canvasses or prints to sell in your flea market booth and are sure to have success in no time.
Tips:
Consider offering both original pieces and prints to cater to different budgets and preferences.
Engage with potential buyers by sharing the inspiration and stories behind your artwork. This personal connection can make a lasting impression and increase the likelihood of a sale.
Handmade Accessories
From bohemian scarfs to cute headbands for babies, there are lots of fun accessories you can craft and sell at flea markets.
Handmade accessories offer a way for individuals to express their personality and add a touch of flair to their outfits.
Tips:
Stay on top of current fashion trends and incorporate them into your designs. This ensures that your handmade accessories appeal to fashion-forward individuals.
Experiment with different accessory types to cater to a wider audience.
Showcase your accessories in an attractive and organized display that catches the eye of potential customers.
The Best Crafts To Sell At Flea Markets: Final Thoughts
Now you know what crafts sell well at flea markets, you are well on your way to running a successful side business!
To help you on your way, check out these quick tips for flea market success!
Know your target market – Understand the preferences and interests of the flea market shoppers to tailor your craft selection accordingly.
Create eye-catching displays – Design an attractive and inviting booth that grabs attention and showcases your crafts in an appealing way.
Offer a range of price points – Cater to customers with all kinds of budget with different options.
Provide product information – Give details about each craft, including materials used, sizes etc
Engage with customers- This is half the fun of a flea market – Be friendly and approachable.
Accept multiple payment options – Make it convenient by accepting cash, credit/debit cards, and mobile payment methods.
Offer special promotions- Bundle offers or discounts for multiple purchases are a great way to make more money.
Provide business cards or flyers- This way customers can easily contact you or refer your crafts to others.
Remember, success at flea markets often comes from a combination of great crafts, engaging with customers, and providing a positive buying experience.
Implementing these tips can help you make the most of your time at flea markets and increase your chances of achieving success in selling your crafts.