Do you want to learn how to sell jewelry on Etsy? In this post we will learn how to make money selling jewelry on the largest handmade marketplace on Earth.
It is a great way to create a fantastic side business you can do from home.
In addition to the how to of selling on Etsy, we will go through everything you need to know including:
What kind of jewelry sells well on Etsy
Opening your Etsy shop
How to price jewelry on Etsy to ensure sales
Other places to sell jewelry online for even more money
This post contains affiliate links. Please read my Disclosure for more information
MORE THINGS TO SELL ON ETSY
Selling Crystals On Etsy: The Ultimate Guide
How To Start An Invitation Business On Etsy
How To Sell Jewelry On Etsy- The Ultimate Guide
Why Is Etsy A Great Place To Sell Jewelry?
You probably know that Etsy is an online marketplace that specializes in handmade products.
You can buy and sell all kinds of handcrafted items on the site – from knitted items to custom invitations.
According to the latest stats, in 2020 there were over 39 million active buyers on Etsy making it an amazing place to sell your jewelry.
Etsy is the right place for a new shop owner to sell their jewelry and reach a large audience if you don't have much to invest.
Does Jewelry Sell Well On Etsy?
Yes! In fact handmade jewelry is the one of the top-selling items on Etsy and it is one of the best products for new sellers to start their business with.
The great thing about selling jewelry on Etsy is that you can sell all different jewelry items to make money.
​Of course, jewelry makers have it easy when it comes to making Etsy products but if you don't make your own jewelry, there are still a lot of other things you can sell in your online store.
Jewelry is a great thing to sell because there are so many special occasions where people like to buy handmade items like jewelry.
It is, of course, one of the most popular gift ideas too.
In addition, people buy jewelry year round so this is a great product that can make you money 365 days a year.
To be successful selling jewelry on Etsy, you need to sell high quality handmade goods at competitive products and to have a great range of products for your customers.
Below we will look into how you can find out what jewelry Etsy buyers want to buy.
The Best Jewelry To Sell On Etsy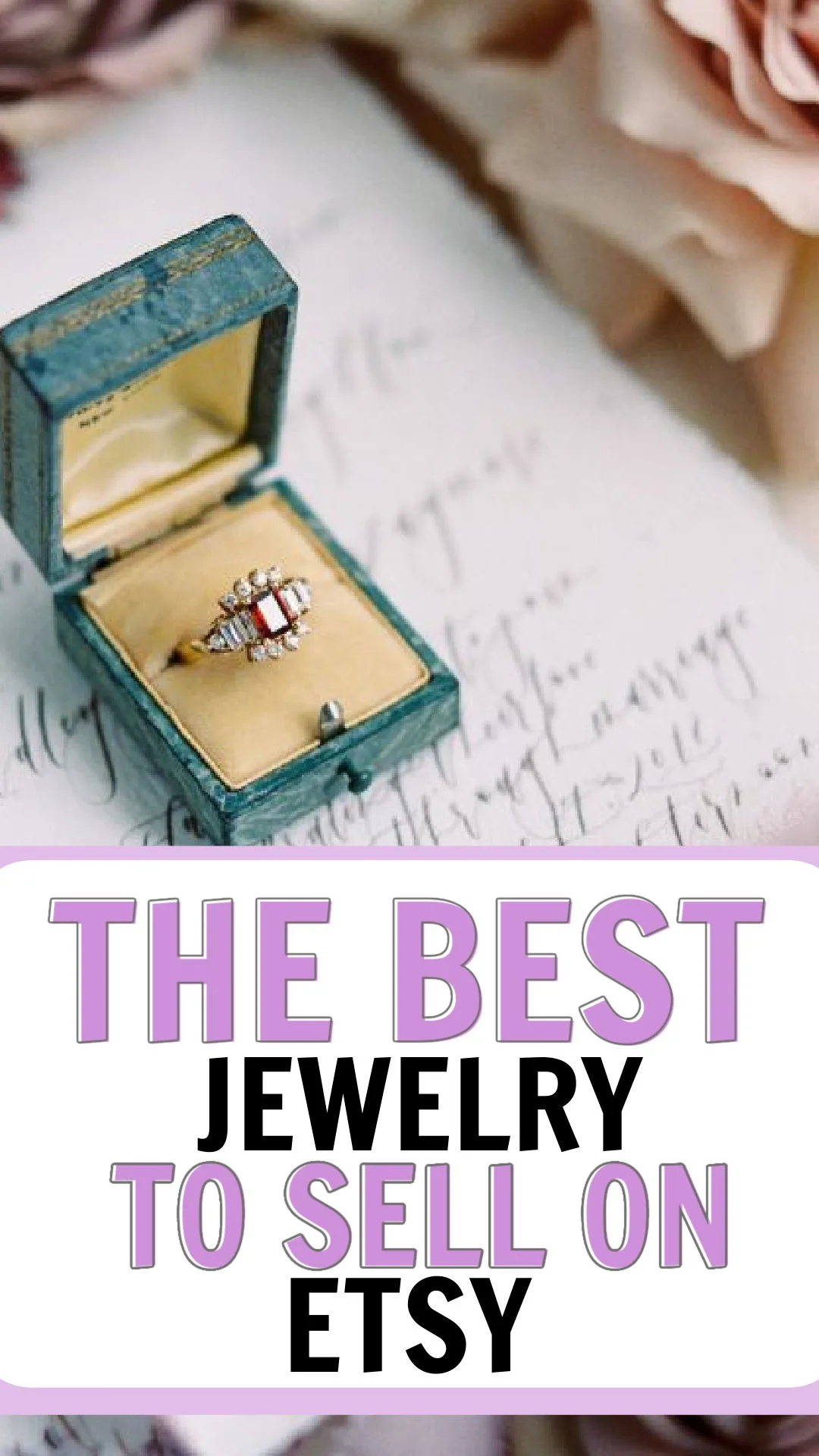 If you already know the kind of jewelry you want to make and sell on Etsy, you are already ahead of the game.
Bear in mind that there are so many different jewelry ideas you can sell on Etsy.
Here are some examples:
Vintage items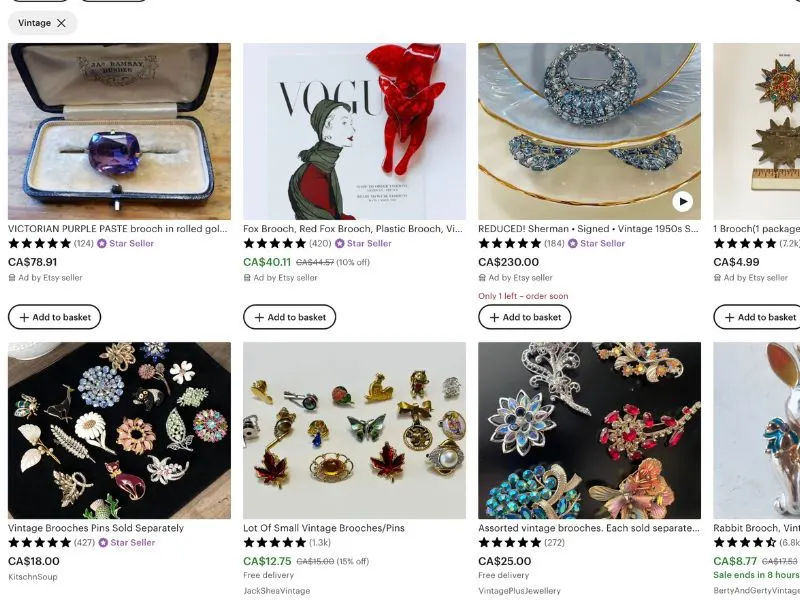 You can have a successful Etsy shop selling vintage items that you have found at flea markets, garage sales and thrift stores.
Lots of people love vintage costume jewelry and this can be a great way to start an online shop without making your own products. ​
Engagement Rings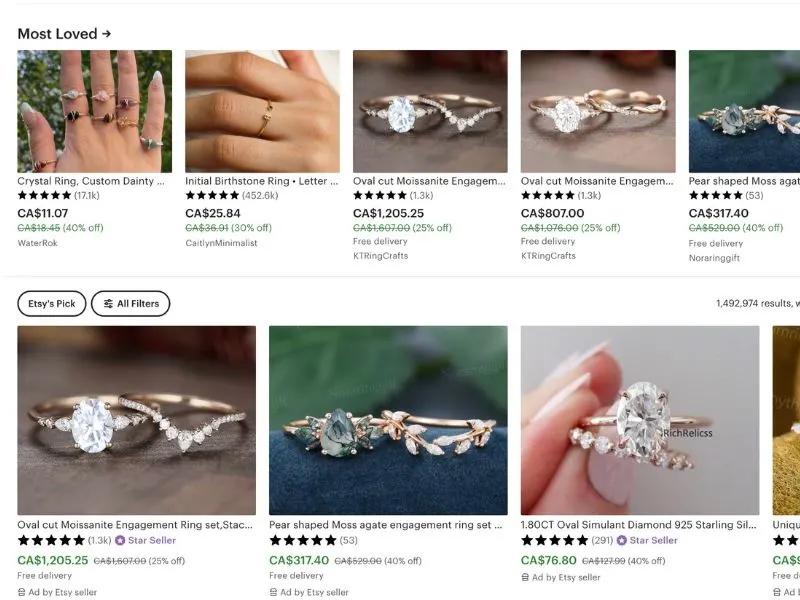 Unique rings are in high demand now that people are looking beyond the classic diamond. Wedding rings are also very popular – one of the best sellers in men's wedding rings are these wedding bands made from whiskey barrels!
Personalized Necklaces
Across every category, one of the top Etsy sellers are customized items and in jewelry, personalized necklaces and bracelets are really popular.
Etsy makes it really easy to promote custom listings to potential buyers too. ​
Jewelry supplies for people who want to make their own jewelry
​
Don't want to make and sell jewelry? One of the best-selling items on Etsy are craft supplies.
Think of things such as beads, pendants and shells.
How To Find Your Target Market on Etsy
These are all great ideas but there is no point in making something that no one wants to buy.
That's why market research is really important.
It can help you see what kinds of things people are searching for plus the best selling jewelry products on Etsy.
It is a good idea to create a business plan that shows the kinds of items you will make and how much profit you hope to earn.
Doing market research can help you to find this information.
Here is how to do this research yourself:
Check out Etsy
First of all, spend some time on Etsy and search for the jewelry you are thinking of selling.
Take some time to look critically at the existing jewelry shops who will be your competition.
Look at the listings on the top of the search results (below the sponsored ads) and take some time to look at the shops that have the most reviews.
What kinds of products are they selling?
How much are they selling them for?
How many products do they have in their shop?
​You can use existing shops as a springboard to see what kinds of products you can make.
Don't copy other shops but look for gaps in the market and other similar products you can make to attract potential customers. ​
Use An Etsy Keyword Tool
Once you have got familiar with Etsy shops selling jewelry you can consult an Etsy keyword tool that will give you all kinds of data about the things Etsy buyers are looking for.
There are quite a few keyword tools out there, my personal favorite is Sale Samurai. You can get a free 3 day trial to check it out.
If you want to see how to use this tool to find the best selling jewelry, read my Sale Samurai tutorial and watch my video here.
You can perform a search on Sale Samurai that will show you the most searched for products on Etsy plus information such as the average price point and the keywords that you should be using in your Etsy listings.
Here is the first page of my results when I search for the keyword "jewelry":
Using both a keyword tool and your own research on Etsy should help you find some great ideas for your Etsy business.
The Best Selling Jewelry On Etsy
To make things easy, here is a list of the current best selling jewelry items on Etsy:
Necklaces
Zodiac necklace
Jade necklace
Amethyst necklace
Obsedian necklace
Rings
Lord of the rings ring
Pumpkin ring
Double ring
Coin ring
Bracelets
WWJD bracelet
Crystal bracelet
Bead bracelet
Charm bracelet
Don't forget you can also sell related items such as ring dishes, ring boxes, ring bearer cushions etc.
How To Open Your Etsy Shop Selling Jewelry
One of my favorite things about Etsy compared with other online marketplaces is that it is completely free to get started.
It is easy and free to open your Etsy shop and you can be up and running in just a few minutes.
If you don't already have a free account, you will need one before you can start your Etsy shop.
Go to Etsy and click on "Create Shop".
Use this special invitation from me to get 40 free listings to start you off.
Fill out the basic information about your shop and you will be almost ready to create your first listing!
You'll want to think of a fun Etsy shop name and add a logo and a shop banner for your store.
You'll also need to connect your bank account and create your shop policies such as refund and shipping times.
To walk you through the whole Etsy set-up, I recommend you download my free Starting An Etsy Shop Checklist PDF.
Listing Your Jewelry For Sale
Head to your Etsy shop and click on "listings". You can now start to add your jewelry.
I recommend adding at least 10 listings to your shop in the beginning so that you have some options for your customers.
It's well known on Etsy that having more items to sell means getting seen more in searches which in turn results in more sales.
Each listing has a few different parts that you need to focus on:
Title
Photos
Category
Description
Tags
If you have Sale Samurai, you can actually create your listings on there and they will give you advice for the keywords you should be using.
Selling on Etsy is more than "make an item and they will buy." You will not get seen if you don't take the time to learn Search Engine Optimization so that your listings are seen.
Here are some tips for making sure you get your jewelry seen by buyers:
Your Etsy Title
The first step is to create a title for your products that will make Etsy shoppers stop in their tracks to take a peek.
Make sure your title uses every available character to fully describe your item including the size, season, materials and anything else you can think of.
Don't waste any space in your title, make sure to use as many characters as you have.
For example, if you are selling an engagement ring, your title might look like this:
Ruby engagement ring, Red stone ring, rose gold ring, Promise ring, Solitaire ring Gift for her, Vintage Ring, Anniversary ring
Here is a great example of someone making the most of their Etsy title: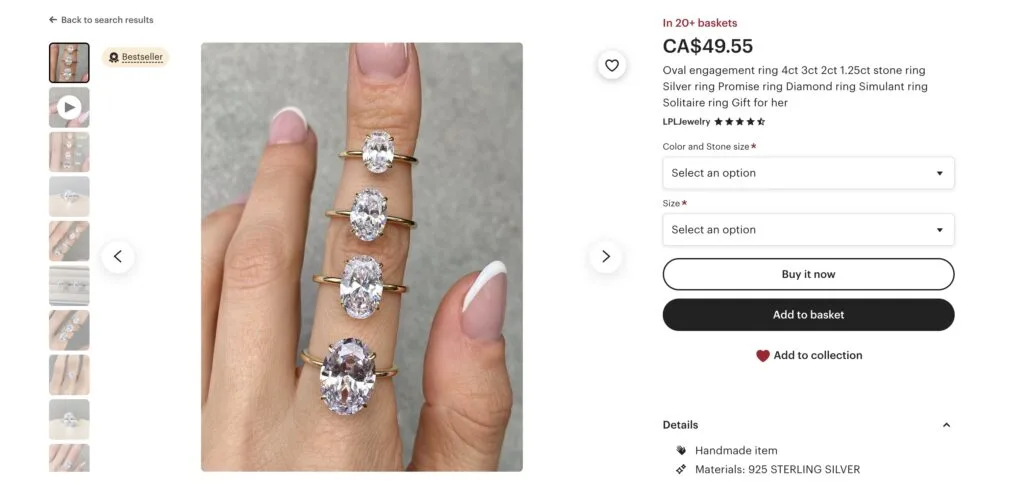 Tips For Taking Great Photos Of Your Jewelry
It doesn't matter whether you are selling digital products, expensive rings or jewelry supplies, your photos are probably the most important part of your product listing.
You can add up to 10 photos per listing and I recommend adding at least 5 if possible.
Consider including the following photos of each item:
Close up of the details
Someone wearing the product
A size comparison if you sell different sizes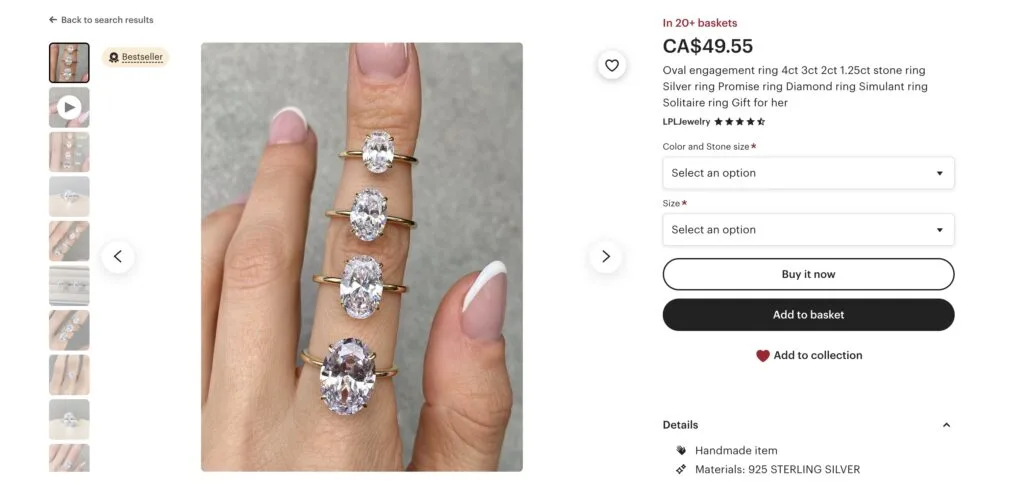 How To Write An Awesome Etsy Description
You want your Etsy storefront to appear when someone looks for "your product" in the Etsy search engine.
To do this, your product descriptions are key.
Your description needs to include as much information about your product as possible.
Include all the information about:
Materials used
Colors
What occasion is it for
Sizes available (for chains, rings etc)
Any special information customers need to know including care instructions
Make sure to also mention any different products you also sell in your Etsy listing as this can help you to get more online sales.
Many jewelry purchases include matching items such as bracelets and earrings so make sure to interlink your product line in your listing.
If you want some tips on writing great description, you can download my free Etsy SEO Checklist.
How To Choose Etsy Tags For Your Jewelry On Etsy
You can use up to 13 tags for your listing, the more you use, the more chance of someone finding your in search.
If you have a hard time coming up with tags, you can use a program like Sale Samurai to give you ideas.
Just do a search for the keyword of your item and it will come up with the commonly used tags: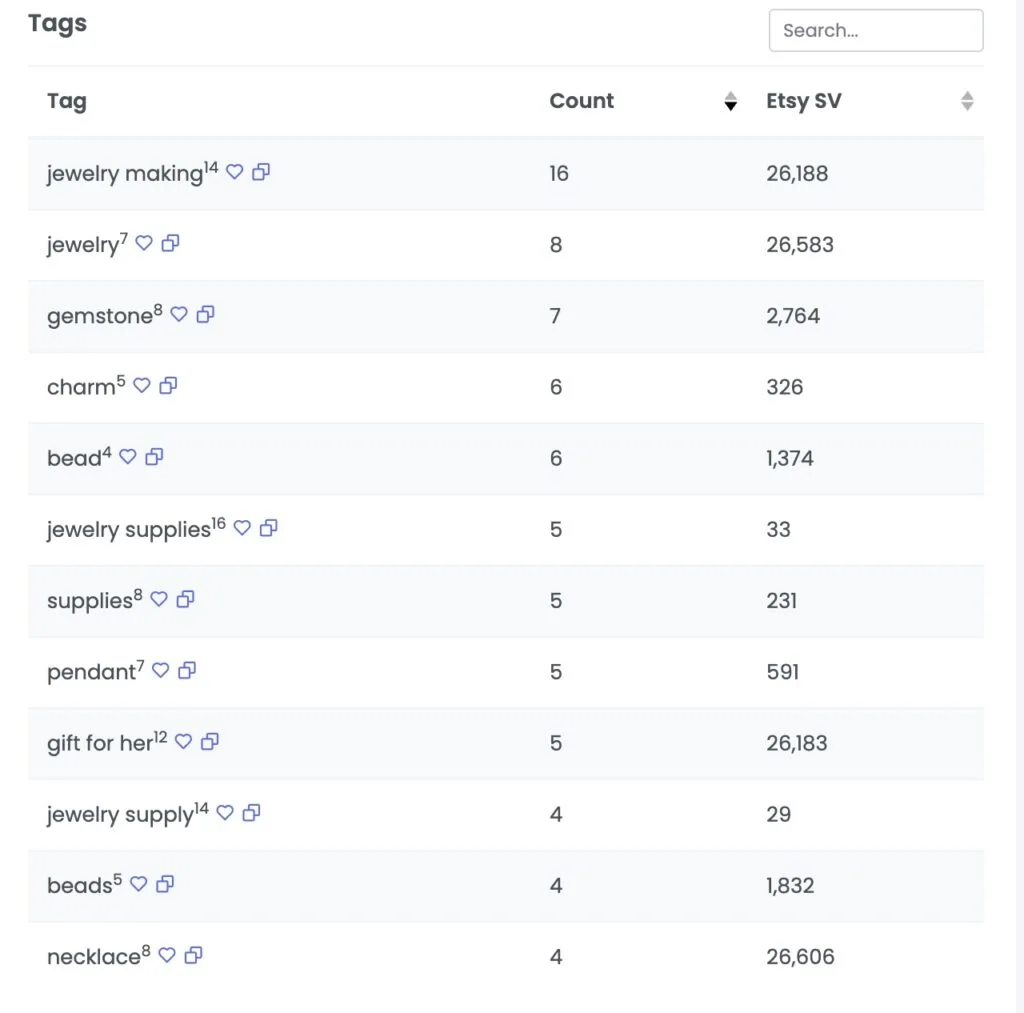 Tips For Promoting Your Etsy Shop
Once you have published your listing, it's time to start promoting.
You can't just wait for Etsy buyers to find your storem even if you have the most unique product in the world.
You need to spread the word both in person and online.
The more different angles you use to promote your online business, the more money you will make.
One of the best ways to promote your store is by moving outside of Etsy.
Use Social Media To Promote Your Etsy Shop
Etsy gives you easy ways to connect your Facebook and Twitter to your shop so you can keep your fans in the loop about new products.
Use any and all of the following social media platforms: Twitter, Facebook, Instagram, Pinterest, YouTube, Snapchat and TikTok.
Make a point of adding photos of all your listings to social media and try and build a following.
Pinterest is possible one of the best places to promote your Etsy shop.
It is completely free to get started and be a huge factor in driving sales to your business.
You can add pins that direct to your Etsy shop or you can pin directly from Etsy to your Pinterest account.
To learn how to get started on Pinterest, you can read my in depth how to guide on how to use Pinterest for Etsy.
TikTok is the perfect place to promote your best selling items. Make short videos showcasing your top sellers and make sure to link back to your Etsy shop.
Other Places To Promote Your Etsy Shop
Starting a blog about how to sell jewelry successfully is a great way to promote your Etsy business while building your brand.
In your blog you can write tutorials on how to make jewelry and then link to your shop so that can people can buy your items.
It's really easy to start your own blog and it is super cheap. You can get my step by step tutorial here.
YouTube
Start a YouTube channel where you show people how to make jewelry themselves.
You can monetize your channel with ads and also direct people to your Etsy shop.
Shipping And Packaging Your Jewelry
After you have done all the hard work of making and selling jewelry, the next step is to make sure they arrive safely.
You'll want good sized boxes plus tissue paper or packing peanuts.
First of all wrap your items in tissue paper and seal with a sticker (you can buy branded stickers for a low cost on Vistaprint). s.
The last thing you'll need to do is add in your business card or pamphlet. A nice handwritten note to your customer is always really cute too.
You can get branded items made on Etsy or a site like Vistaprint.
How To Price Your Jewelry To Sell
To determine the price you list on Etsy, use your market research to see what other people doing.
First, look up your competition and see what they charge. Price your items competitively while maintaining your profit margins.
Remember that most people hate paying for shipping so if you can offer free shipping while still making a profit, then this is a great option.
To decide on a price, consider the following:
The cost of your materials
Packaging supplies
Shipping fees
Your Etsy fees
Your profit margin (ideally at least 25%)
You need to cover all your costs (materials, fees, shipping) and make a profit.
How Much Are Etsy Fees?
An important piece of the Etsy puzzle is the fees that you will be charged for listings and sales.
Listing Fees
You will be charged a listing fee of $0.20 USD for each item that you list for sale on Etsy.com or Etsy's mobile apps.
(Don't forget to take advantage of the 40 free listings when you open your shop to save some cash).
Transaction Fees
Every time you make a sale through Etsy, you will be charged a transaction fee of 6.5% of the price you display for each listing plus the amount you charge for delivery.
Etsy will automatically deduct all fees owed from your payment account so you do not need to pay them separately.
Other Places To Sell Homemade Jewelry
Although Etsy is definitely one of the best places to sell jewelry to make extra money, you can boost your sales by promoting your products on other platforms too.
Here are some places you can try:
Craft Fairs, bazaars and Farmer's Markets
Local stores
Instagram
Facebook
Your Own Website
Selling Jewelry at Farmer's Markets and Craft Fairs
​Handmade jewelry is one of the top selling items at craft fairs and farmer's markets.
You will likely have to pay for a table at these events but you can more than likely make your money back with sales.
The only negative about these avenues is how much time you will need to spend at the event. Plus. most take part on weekends.
Make sure to get some business cards printed off at Staples or VistaPrint before you attend a fair so that people can get your contact details.
Read my guide to maximizing your sales at farmer's markets here.
How To Sell Your Jewelry in Local Stores
If you can get local gift to carry your jewelry for a small commission, this can be a great way to make some sales and get your name out there.
Many stores will be happy to display your jerwelry at no cost if they can make some money on anything that sales.
Promoting and Selling Handmade Jewelry On Instagram
Instagram is a great place to promote your products and potentially get some direct sales.
Every time you have a new listing, make sure to upload images to Instagram and ask people to DM you if they are interested in buying it.
You can also advertise that you take custom orders for holidays or special events with enough lead time.
How To Sell Handmade Jewelry On Facebook
Selling your products locally on Facebook is a really good way to get started if you are new to making money with your hobby.
First of all, it is free to use and you won't have to worry about any shipping issues if you sell locally.
One of the best places are local buy and sell groups on Facebook, especially around the holidays. People are always looking for unique gift ideas.
Selling Jewelry On Your Own Website
One of the best places to sell your products to different audiences is on your own website.
Your website will allow you to build your brand and also get sales without paying a lot of fees.
You can choose to either sell your jewelry directly on your website or use your site to advertise your products and direct customers to make a purchase on your Etsy shop.
Directing people to your Etsy shop is the easiest option because then you won't have to worry about finding a way to process payments. Etsy does have a an option for their shop owners who want a website.
You can also create your own website in just an afternoon and for under $5 using a host such as Bluehost.
Bluehost will give you a free domain name to make it easy to get started.
Make sure when choosing your domain name (that's the www.) that the same name is available on Facebook and Instagram as a username so that you can have a cohesive brand.
To build your own website quickly, you can follow my step by step guide.
How To Sell Jewelry On Etsy – FAQs
Does Jewelry Sell On Etsy?
Yes!
Etsy is a place a lot of people visit for custom gifts and jewelry is always a popular gift idea.
Jewelry is one of the best things to sell in your small business.
That being said, if you are not overly crafty or are not ready for the shipping costs and logistics involved with selling physical products, there are some other things you might want to consider selling on Etsy:
Start Your Own Etsy Printables Business – this involves no shipping at all!
Make Money Selling Stickers On Etsy – another really popular Etsy best seller
Learn about Selling Prints On Etsy – great for people who love creating artwork.
For even more ideas, make sure to check out my list of 50 Etsy Shop Ideas.
How Much Money Can You Make Selling Jewelry On Etsy?
Obviously how much money you make will depend on how many products you sell and what they sell for.
​There are some rings that sell for over $1000 while there are necklaces that go for $10 each.
​If you provide great customer service and you get lots of positive feedback and reviews from customers, your store will grow quickly.
It is possible to turn a hobby into a full-time business with the right products.
Consider if you will be selling expensive, high end items or looking at a more volume business?
MORE DIY CRAFTS TO MAKE AND SELL
21 Most Profitable Resin Crafts To Sell
451 Most Profitable Crafts To Sell